Al Pacino, now 75, is the coolest actor of his generation. His "Donnie Brasco" co-star Johnny Depp, 52, is the coolest actor of his. But which of these two all-timers is cooler than the other? Let's break it down, categorically. "What does 'coolness' mean in this scenario? That's kind of a broad term," you say? Well, basically, by my definitions, the cool actors carry a swagger, an implicit, rock 'n' roll aura, that shines through even their most esoteric performances (see "Dead Man"). They are true performers, artists who aren't afraid to go to acting places their contemporaries wouldn't; they work consistently with good directors and find good scripts (well, you know, usually). On screen, they make ballsy choices. In life, they don't give off the phony, flat affectations of many other actors — at least during interviews and in the way they conduct themselves. Rather, they embrace their quirks, they accept their own darkness, and they aren't afraid to be a bit rough around the edges. Depp and Pacino have only performed in two movies together, 1997's undercover cop/crook drama "Donnie Brasco" (in which Depp is the titular cop, Pacino the crook) and a movie I like to call "A Very Poor Career Choice That Will Show Up Near The Bottom Of This List" (2011).
My own generation (actors born between 1985-1995) has some contenders for coolness, but none at the level of Pacino/Depp. Maybe one day. Current candidates: Michael B. Jordan, Margot Robbie, Miles Teller, Jennifer Lawrence, Ezra Miller, Emma Watson, Max Minghella (full disclosure: I went to college with him for a bit and he's a bad-ass), John Boyega, Emilia Clarke, Juno Temple, Nicholas Hoult, and NOT Shia LaBeouf. PROBABLY NEVER SHIA LABEOUF. Sorry ladies. This list owes a large debt to the great Bill Simmons Pacino-vs.-De Niro face-off (obviously I somewhat disagree with his conclusion, but still).
Coolest Character
Depp
George Jung, "Blow" (2001)
Bad-ass drug dealer whose story ends with him… old and fat and hallucinating stuff in jail. That part is not so cool, but it does produce the most poignant Depp scene in his entire canon (mark me, unless you're an inhuman monster, YOUR EYES WILL PRODUCE A HORRIBLE SALTY DISCHARGE). But man, when George Jung was peaking, he was balling.
Pacino
Tony "Scarface" Montana, "Scarface" (1983)
An evil coke dealer, yes, but his ruthless ascent to power is pretty cool, in a demented sort of way. There's a reason the "Scarface" poster is on every rapper's bedroom and/or studio wall the world over. The transition from being a destitute Cuban immigrant with a doozy of a scar that's definitely not from eating pussy, to being a destitute short-order cook in Miami, to being an underling drug dealer who almost loses both his arms, to being the biggest baddie in the city, to dying in a flurry of machine gun fire while blown out of his gourd, is pretty cool to watch. In a way, it's the stuff of our deepest, darkest fantasies. He's a horrible, disreputable figure, sure, and like Jung his morality radar careens horribly off-course pretty quickly. BUT if nothing else, you've gotta concede that the dude is highly motivated, to the point where he will stop at nothing to get exactly what he wants, and he wears really cool suits.
Winner: Pacino
Evilest Character
Depp
James "Whitey" Bulger, "Black Mass" (2015)
The next Filmcore Web Series episode is dedicated to covering Depp's terrific return to form as Whitey Bulger, the real-life Boston crime boss and leader of the deadly Winter-Hill gang. Scott Cooper's film reports at the end credits that Bulger has personally murdered "at least" 19 people — and you can bet the number was way higher. Bulger stalks the screen with a seething, ferocious menace, ready to strike down any and all threats to his business, real or imagined. He has one particularly productive day, wherein he murders the hooker girlfriend (Juno Temple) of his right-hand man Steve Flemmi (Rory Cochrane), after she's spent a night in jail potentially spilling too much to the authorities; threatens to kill one of the two FBI agents he's conspiring with (David Harbour) after that agent spills a "secret family recipe" far too quickly over dinner; and finally goes upstairs to threateningly kind-of-strangle the wife (Julianne Nicholson) of the other FBI agent Depp is working with after she feigns illness to avoid having to sit with the terrifying Depp at dinner. Incredibly creepy, incredibly effective. It's great to see Depp return to giving a shit.
Pacino
Satan, "The Devil's Advocate" (1997)
He wants Keanu to fuck his own sister? He rapes Charlize Theron and generally poisons her mind until she (seems to) go completely insane? He is responsible for all evil all over the world? He's a LAWYER? He feeds Jeffrey Jones to demon dogs? Well, okay, considering Jones is a pederast, maybe I'll let that one slide. STILL THOUGH. So evil. I know he goes completely, 100% over the top. But it's perfect for this role, funny and scary and maliciously seductive in equal measure.
Winner: Satan, dude. Come on.
Coolest Acting Transformation For A Role
Depp
Inspector Ichabod Crane, "Sleepy Hollow" (1999)
So here our boy took one of the all-time great sideways approaches to a male detective character, taking his cues from Angela Lansbury and imbuing Ichabod Crane with the constitution of a terrified teenage girl. He faints a lot, and it's great.
Pacino
Sonny Wortzik, "Dog Day Afternoon" (1975)
In Sidney Lumet's great "Dog Day Afternoon," Pacino is a first-time bank robber who causes quite the stir with John Cazale as they try to steal the funds from the First Brooklyn Savings Bank to back a gender reassignment surgery for the married Pacino character's lover (Chris Sarandon). Playing one of the first openly gay characters in a major Hollywood movie, Pacino is a sweaty, angry mess, a bumbling thief and a sexually confused media darling, as their robbery-turned-hostage-situation commands the attention of the entire borough and spirals sadly out of control. It's not exactly understated, but it is terrific work, and it is quite the transition from Pacino's prior brooding masculine turns in "A Panic In Needle Park," "The Godfather" Parts I and II, and "Serpico."
Winner: Depp
Coolest Make-Up
Depp
"Edward Scissorhands" (1990)
Stan Winston and Ve Neill's melancholic take on Depp as a Frankenstein's-monster-by-way-of-Robert-Smith-with-much-more-facial-scarring is the best of Depp's many, many character make-ups, because it is NECESSARY TO THE CHARACTER. The make-up, combined with his leather S&M bodysuit, informs the tone of the whole movie and the way Depp colors his low-key performance. It's great. Winston and Neill were nominated for the Best Make-Up Oscar that year, but were (unfairly) beaten out by the guy who did the following PACINO character make-up…
Pacino
Big Boy Caprice, "Dick Tracy" (1990)
Pacino's Big Boy Caprice was the best thing in the movie (Oscar-nominated), aside from John Caglione Jr.'s insane Oscar-winning mobster make-ups (Pacino wasn't the only guy to log time under layers of prosthetics), inspired by the highly stylized Chester Gould comic strips.
Winner: Depp
Coolest Line
Depp
Sheldon Jeffrey Sands, "Once Upon A Time In Mexico" (2003)
"Are you a Mexi-CAN or a Mexi-CAN'T?"
Pacino
Lieutenant Vincent Hanna, "Heat" (1995)
"'Cause she's got a GREAT ASS. And you've got your head ALL THE WAY UP IN IT."
Winner: Pacino, working up one hell of a froth over Ashley Judson's top-notch derriere.
Coolest Range
Depp
This is the one arena where Depp has a definitive edge over Pacino. Though I can't say I've always liked his decision to hide behind goofy make-ups and voices since "Pirates of the Caribbean" gave him carte blanche in that arena, it's tough to deny that he really commits, and can pull them off pretty effectively. Even his Tonto in "The Lone Ranger" (2013) had an impeccable accent and his own unique carriage. He can go small (the tragic loner in "Edward Scissorhands," the mumbling genius journalist in "Fear and Loathing in Las Vegas"), he can go big (Jack Sparrow, Whitey Bulger), he can do a host of British, regional, and non-sequitor accents, and he can do straight-laced or weird with equal dexterity. The guy's a chameleon.
Pacino
Pacino basically can go understated or completely over the top, and his characters do run the moral gamut. That being said, he has been significantly more limited in his accent/weirdness output. Not to say he can't do it, we just haven't seen as wide an array of options as we have with JD.
Winner: Depp
Coolest Haircut
Depp
Sheldon Jeffrey Sands, "Once Upon A Time In Mexico" (2003)
A kind of mid-range Depp haircut; not quite at the length of his Tonto, Jack Sparrow or Gilbert Grape epics, but longer than a lot of his more straight-laced characters. Sort of a combination of the pseudo-long hair he rocks in "Don Juan DeMarco" combined with the emo bangs of Edward Scissorhands.
Pacino
Carlito Brigante, "Carlito's Way" (1993)
Kind of a surprise considering it's post-cigarette voice Pacino and his hair generally got more manic in the '90s, but here it looks pretty bad-ass: long-ish and slick, with a thick coke beard. This category is almost posthumous, because man did Pacino's hair take a dark turn. The hair today: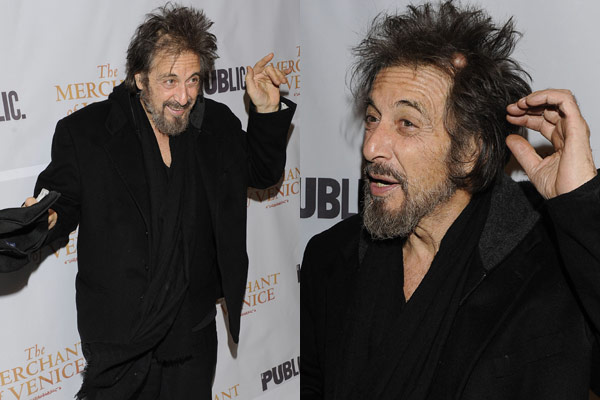 Winner: Depp
Coolest Scene
Depp
The "Raol Duke" dinosaur freak-out scene in "Fear And Loathing In Las Vegas"
Take a second to look at that scene summary again. Just to be clear, people turn into fucking DINOSAURS in a grisly Vegas casino while Raol Duke tries to contain the fact that he's on acid. Fan-fucking-tanstic, Terry Gilliam at his most inspired, and Depp at his most drugged-out insane. This whole movie is loaded with delirious trippy absurd moments and creatures, and is a fantastic ride/substitute for hallucinogens.
Pacino
Okay, this one requires significant discussion so we can tackle some metrics. See below. I know what most of my fellow Millennials are thinking: it's the "Heat" diner scene. But it's not that simple. This is freaking Al Pacino we're talking about, and he's made whole movies' worth of fantastic scenes. I feel like way too many folks of my generation have not seen "The Godfather." If that applies to you, dear reader, then WHAT ARE YOU STILL DOING SITTING HERE READING THIS? GO WATCH "THE GODFATHER." Then report back here and we can continue. Both "Godfathers" could realistically occupy this slot with maybe 10-12 scenes each of great Pacino moments. And even those three movies barely scratch the surface of Pacino's best scenes.
Anyway, we're going to have to do a top-five for this one. It'll be a countdown, though, so you'll have your answer soon enough.
5. "Attica! Attica!" in "Dog Day Afternoon"— The moment where Pacino's crook mutates into a people's champion.
4. Fredo the Heart Breaker in "The Godfather Part II" — The moment Don Michael Corleone puts business before family in the most painful way possible. "I know it was you, Fredo. You broke my heart." Watching Corleone's tragic arc, from a good upstanding citizen and family rebel (i.e. the pure one, the college kid, the one who wants to go straight) to a heartless mafia don who has his own brother murdered, is a master class in brilliant acting
3. The chainsaw scene in "Scarface" — One of the most masterfully choreographed DiPalma moments, full of bravura crane transition shots (moving from the bathroom out to Steven Bauer hitting on fly honies by the beach) and Hitchcockian zooms to direct the eye, but also featuring one of Pacino's most contained, nakedly honest performance moments, largely muzzled. Those eyes communicate a whole hell of a lot, though. They don't have the whole thing up online anywhere (outside of watching a streaming version of the whole movie), but for now you can get the idea of it with this. Lamely, it skips that crane shot I was talking about.
2. The restaurant hit in "The Godfather" — This is when Michael Corleone, finally and definitively, turns. The incorruptible college kid's goodness is tainted by a lust for vengeance. There's a great moment, where Michael walks into the bathroom, hesitates, then grabs the gun that's been planted there for him. We know exactly what that moment means: there's no turning back.
1. The diner scene in "Heat" — Before "Righteous Kill," this scene and the strikingly minor-key finale in Michael Mann's reflective cobs-and-robbers-in-LA tale marked the only time Pacino shared celluloid screen time in the same frame as Robert De Niro, the only real rival to their generation's coolness/greatness crown. It doesn't get any better than this. "You know we're sitting here, you and I, like a coupla regular fellas. You do what you do. I do what I gotta do. And now that we've been face to face. If I am there and I got to put you away. I won't like it. But I'll tell ya, if it's between you and some poor bastard whose wife you're going to turn into a widow, brother, you are goin' down." So cool.
Winner: Pacino
Coolest On-Screen Significant Other
Depp
Christina Ricci, "Sleepy Hollow"
Total babe here (part of the rare "goth-blonde" Burton genus), Ricci at her peak. One of the perfect Burton Girls, and a great pairing with Depp, even though at the time of production he was double her age (not a misprint).
Pacino
Michelle Pfeiffer, "Scarface" and "Frankie and Johnny" (1991)
It's hard for anybody to hold a candle to beautiful, aloof Michelle Pfeiffer, near her absolute alluring peak in "Scarface," as Pacino's cold, cruel cokehead wife, and "Frankie and Johnny," as a wholly different figure, a vulnerable waitress, both featuring Pacino. Ellen Barkin, the seemingly ageless mega-babe with the husky voice, finishes a close second (from 1989's "Sea of Love").
Winner: Pacino
Most Rock and Roll Off-Screen Moments (i.e. Arrest Record):
Let's be clear with this category: in NO WAY is Filmcore endorsing any of this behavior. It's just entertaining and all sounds like stuff Motley Crue would be accused of doing, not Academy Award-worthy actors (Pacino won for 1992's "Scent of a Woman" and has been nominated seven other times, Depp has been nominated three times but never won).
Depp
–Arrested on "suspicion of criminal mischief", 1994 – He trashed a $l,200-a-night room at New York's swank Mark Hotel during a fight with then-girlfriend Kate Moss on September 13. He was forced to reimburse the hotel $9,767.12 in damages and guest fees. A week prior, he had been accused of (but not formally charged for) assaulting photographer Jonathan Walpole in a London bar, after Walpole had accidentally grabbed Depp's glass off the bar instead of his own. Walpole reported that Depp "pulled both my ears very hard," and that "some ape" accompanying Depp "leaped on my back, put his arm round my neck and tried to force my head to the floor." Depp had been in town visiting Moss at the time so… it sounds like it's a good thing that relationship fizzled out.
–Arrested for "threatening behavior," 1999 (online archives didn't reveal the exact charge) – Another paparazzo assault in London (maybe photographers are real jerks out in the UK?), this time Depp threatened multiple photographers outside a restaurant called Mirabelle with a wooden plank. The takeaway from this second assault is clear: don't take pictures of Johnny Depp when he's drunk in London.
–Depp's new wife Amber Heard charged for the illegal importation of his dogs to Australia, 2015 — Heard, 23 years Depp's junior (nice), maximally faces 10 years in prison. Of course, she'll probably just pay a fine and be done with it — the pooches, two teacup terriers named Pistol (as in Pete?) and Boo (as in Radley?), were purportedly a risk to "bio-security" Down Under. The court hearing for the case has been adjourned until November, according to People Magazine. While Depp wasn't charged at all, those were his dogs, and his wife was bringing them on his behalf, so… I'm counting this here. Kind of a ridiculous thing to hypothetically be sentenced to 10 years in prison for, no?
Pacino
–Arrested on suspicion of attempted robbery, 1961 – In Woonsocket, Rhode Island, Pacino and two friends were pulled over after having circled a block (that happened to have undercover cops parked on it) several times. All were wearing black masks and gloves, and a loaded .38-caliber pistol was discovered in their trunk. The three men were all charged for carrying a concealed weapon. Bail was set at $2,000, an amount Pacino couldn't pay — so he spent three days in jail, but the charges were eventually dropped. Pacino explained to the arresting officers that they were all actors and were performing in a play that called for a weapon as a prop. Were that true, though, why was the pistol loaded, and why were all wearing black masks and gloves while circling a particular block? So… it's kind of fitting one of his most famous roles was as a poor bank robber, eh?
Winner (kind of): Depp
Best AND Coolest Body of Work
Depp
Depp plays a big part in the success of SEVERAL certifiably great movies (most of which he professes he's never watched) — "Ed Wood" (a member of my all-time Top 20), "Edward Scissorhands," "Sleepy Hollow," "Fear and Loathing," "Blow," "From Hell" (2001 — quite a year for Depp with the one-two punch of this and "Blow"), the great new "Black Mass," "Platoon" (1986), "The Corpse Bride" (2005). These are undeniably wonderful movies that everyone should have seen by now; we've got violence, we've got loners, losers and weirdos, we've got intrepid detectives, we've got blind patriots. The guy's been great for almost 30 years now; these flicks comprise the reason he's the coolest actor of his generation.
Pacino
Let's run through the greatest of the great: "The Godfather" and "The Godfather Part II" (two of the best 30 movies of all time on any self-respecting filmgoer's list), "Heat" (that last shot though!), "Scarface," "Carlito's Way," "Dog Day Afternoon," "Scent of a Woman" (1992), "The Devil's Advocate," "The Insider" (1999), "Glengarry Glen Ross" (1992), "Serpico" (1973), "A Panic In Needle Park." Up until around the year 2000, actually, Pacino has starred in a fucking POTPOURRI of great or very good things. One day, mark my words, the first "Godfather" will become the generally accepted #1 after stuff like "Citizen Kane" fades a bit — the other two nominative favorites among critics are "Casablanca" and "Vertigo." You should see all of those. And "Insomnia," which isn't great but is a heck of a lot of fun — basically Pacino plays a guy who's so tired but can't get any sleep because Alaska's constant-daylight schedule is fucking up. Kind of hilarious.
Winner: Pacino
Finally, for a little balance, we're going to sift through a handful of their Least Cool moments —
Least Cool Sell-Out Moment
Depp
Making Four (and counting) "Pirates of the Caribbean" Sequels (2006-?)
HOW MANY PRIVATE ISLANDS DOES ANY ONE MAN NEED? At the same time, would I sleep-walk through my most famous role a billion superfluous times if they were paying me upwards of$300 million (keep in mind, that reported amount only applies to the first four movies)? Why yes. Yes I would. The sequels still suck, though.
Pacino
"Gigli" (2003)
I realize that this was most likely just a favor to his "Scent of a Woman" director Martin Brest and he probably said yes without a reading a script, but… come on, dude. I mean, seriously. What. The. Fuck. I can't believe Ben Affleck is going to be Batman.
Winner: Depp
Least Cool, Wholly Unnecessary Character Transformation
Depp
The Mad Hatter, "Alice in Wonderland" (2010)
So… he was playing a psychotic imaginary character, hiding behind wacky kabuki make-up, and for some reason decided that the Mad Hatter should be… a Scottish guy pretending to be British, who only slips into his true brogue when he's getting intense? What was that? What was anybody thinking on this movie? Outside of, you know, "holy shit Disney's paying me a lot of money for this nonsense?" Sadly, Depp is reprising the role in a sequel, "Alice Through The Looking Glass." It should be noted — the Tim Burton "Alice in Wonderland" was actually a sequel to both Lewis Carroll books ("Alice in Wonderland" and "Alice Through The Looking Glass"), but was called "Alice in Wonderland" to make sure it drew in as many suckers as possible. Is Depp's Scottish accent pretty good. Yeah, 'course. BUT THAT'S HARDLY THE POINT.
Pacino
Michael Corleone, "The Godfather Part III" (1990)
If you thought Pacino/Coppola/Keaton/Duvall did this for any reason other than cold hard cash, maybe you should watch it again. Just… such a (kind of hilarious) plummet from the heights of the first two movies. You probably thought I was going to say "Jack and Jill," didn't you? In which Pacino plays himself falling in love with… Adam Sandler in drag. Thing is — he's actually pretty good in it. This commentary is fake, but you should definitely watch it. Incidentally, Depp is also in "Jack and Jill," also playing himself. They must have paid him in private islands.
Winner: Depp
FINAL TALLY
Pacino – 6 Cool Points
Depp – 3 Coolness Points (5 Coolest victories – 2 Least Cool victories)
PACINO TAKES IT. There probably wasn't ever a doubt, at least from my end. Johnny Depp is still really cool though, to be clear.