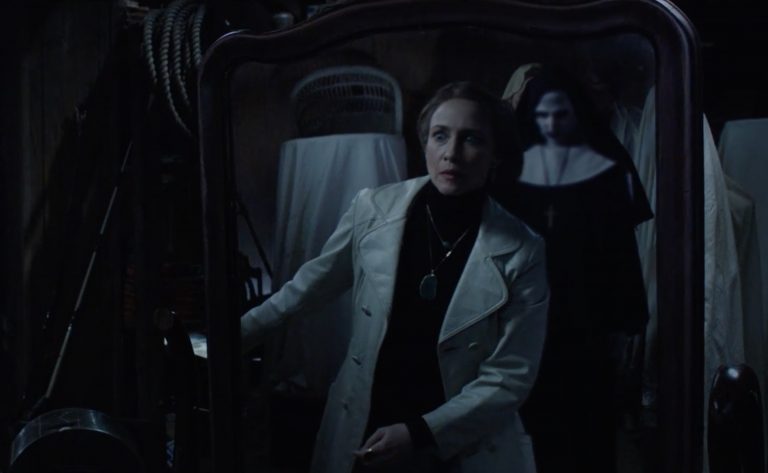 All in all, I was fairly on the money (AHEM) during my initial go-round with the Filmcore Box Office Futures. To be fair, I had Thursday evening preview numbers to peep at, and that certainly shaped my guesses for this weekend's top five movies and their respective sums. Next weekend's predictions will arrive ahead of Thursday night numbers, so it'll be a bit cleaner.
But I digress. Women trumped pimply pubescent young men at the box office this weekend, as "The Conjuring 2" made $16 million more than its closest competitor, "Warcraft," which tanked relative to Universal's hopes when they gave director Duncan Jones $160 million to play with. "Now You See Me 2" did fine, but wasn't particularly impressive and doesn't figure to have the endurance of the first "Now You See Me."
Weekend: June 10th-12th, 2016
Big New Releases: "The Conjuring 2," "Warcraft," "Now You See Me 2," "Te3n" (limited), "Genius" (limited)
My initial projections can be viewed here.
1. "The Conjuring 2" (PG-13, 3,343 theaters) –
My Prediction: #1, $40-45 million opening weekend, $115 million final
What Went Down: #1, $40.4 million opening weekend
So this slid bit to the low end of my initial prognosis. I thought "The Conjuring 2" had a chance to better its predecessor's $41.9 million debut weekend three years ago, due to that movie's long box office legs and relative continued goodwill, plus the fact that the average ticket price has increased by 5.6% since 2013. I do think this one will struggle to match its predecessor's domestic total, but it has a good shot at besting its cumulative worldwide total, as its brand has grown. Like I said in my prediction column, horror sequels are almost always more front-loaded than their original series entries. My $115 million final prediction still sounds about right. On Sunday, Box Office Guru's Gitesh Pandya noted that the movie's "CinemaScore grade [a poll of audiences leaving the theater] was an A-. These are incredible results for a fright sequel." It also played to an older crowd, with over half of its audience being over 25. This warm audience reception (along with positive notices from critics) and the fact that it's mainly playing to an older crowd (who are less inclined to see a movie in its opening weekend than younger fanboys and -girls) could indicate better box office holds than I'm predicting. There is a dearth of wide horror releases on the rest of the summer slate, so this thing certainly has a shot at strong repeat business. "The Conjuring 2" cost $40 million to produce and had a stellar opening outside of the US, too, grossing $50 million from 44 countries (including breaking some horror records).
2. "Warcraft" (PG-13, 3,400 theaters) –
My Prediction: #2, $30-35 million opening weekend, $75 million final
What Went Down: #2, $24.2 million opening weekend
"Warcraft," the $160 million behemoth with horrible reviews, underwhelmed stateside (as predicted) with a $24.2 million first weekend (much less than I predicted). The movie's saving grace was that it continued to haul in cash by the truckload abroad. It took a steeper Friday-to-Saturday dive than I was anticipating, after posting solid Thursday evening preview show numbers ($3.1 million). It tumbled 27.1% on Saturday after a $10.7 million opening day on Friday; typically, Saturdays improve for movies without mammoth opening Fridays, especially when they're for family-friendly fare. The fact that this happened indicates that there were a lot of fanboys out there on Thursday and Friday front-loading the numbers. I expected the brave souls who did investigate this stinker to loathe it. Instead, it enjoyed a surprisingly-robust B+ CinemaScore (all these CinemaScores were found at Box Office Guru, PS). My $75 million projection for a domestic final gross could be optimistic by as much as $20 million. I guess we'll see. Let me just say, for the record, that my gut instinct had this grossing something more in the $25-30 million range, but the Thursday numbers convinced me to revise that guess. I'm not excusing my final prediction, I'm just saying that I DID have reservations about pegging it that high, damn it!!
What would a "good" opening weekend be, for a pricey franchise-starter based on such a popular property, you ask? Something closer to $70 million, which would have given "Warcraft" a decent shot at surpassing its price tag domestically. Okay longevity with bigger movies is tripling your opening weekend gross, so that would have put this at a $210 million final. But that ain't happening now. Again, a sequel is totally on the table, as it continued to be a massive success in most foreign markets. It's made $173 million in China in just six days, and could clear $300 million there. That would put slot "Warcraft" into China's all-time top four, behind only "Transformers 4," "Furious 7" and Chinese products "The Mermaid" and "Monster Hunt." The movie's current worldwide total is $286.1 million, and will at least clear $450 million before its run is over. "Warcraft" cast Chinese-American star Daniel Wu to draw interest there. The success of "Warcraft" abroad, despite its failure at home, is just the latest a harbinger of things to come: sating international audiences is becoming more and more of a priority, especially in China. So expect Hollywood to continue churning out these effects-heavy sequels until we all keel over.
3. "Now You See Me 2" (3,232 theaters) –
My Prediction: #3, $28-30 million opening weekend, $85 million final
What Went Down: #3, $22.3 million opening weekend
The well-cast magician adventure picture came more or less matched Lionsgate's pre-release prognosis, hitting $22.3 million at the box office. I thought it'd make something in the $28-30 million range, right in line with the original's $29.3 million start three summers ago. The $90 million-budgeted flick is also catering to Chinese audiences, strategically setting half of the action in Macau. Given that "NYSM2" is geared towards adults who read reviews, its awful 35% Rotten Tomatoes rating is a bad look for future weekend success. It could still get to $80 million or so, though. I still can't quite believe they made a second one, and I'm sure I'll watch maybe half of it on a plane someday. Congrats to Jesse Eisenberg on anchoring another hit, I guess?
4. "Teenage Mutant Ninja Turtles: Out of the Shadows" (4,071 theaters) –
My Prediction: #5, $10-12 million second weekend (-67% to -72%), $70 million final
What Went Down: #4, $14.4 million second weekend (-59.3%)
So I actually had "Me Before You" taking the #4-spot this weekend, after adding 58 additional theaters to its 2,762. It was seemingly primed to capitalize on a strong $18 million opening weekend. I felt comfortable estimating an $11-$12 million second weekend (a 35%-40% dip), en route to a really good $80 million final. Turns out I woefully overestimated the 81% audience rating on Rotten Tomatoes for that Emilia Clarke rom-dram (like this abbreviation? USE IT). Instead, it plummeted by 51.7% to $9 million and a $36.8 million domestic total thus far. This total kept it out of the top 5 (it finished at #6). At this pace, the flick will be lucky to clear $60 million. It cost $20 million, so it's still a relative success, but it could've done better as female-targeted counter-programming. "The Conjuring 2" diverted a good chunk of that audience, as 57% of its attendees were women.
Instead of "Me Before You," the totally unnecessary sixth theatrical "Teenage Mutant Ninja Turtles" movie "Teenage Mutant Ninja Turtles: Out of the Shadows" was our #4 flick this weekend. It held up a bit better than I had been thinking, albeit still horribly. I thought it would drop by 67-72% have a $10-$12 million weekend; instead, it fell "just" 59.3% to $14.4 million. Its total is still just $61 million, and it will still make far less on these shores than its $135 million budget. Instead of a $70 million final, it's probably more in line for an $85 million finish. Ultimately, though, the number crunchers at Paramount were undoubtedly hoping that this sequel's first weekend grosses ($35.3 million) were its second-weekend grosses, and happily, it isn't doing much better overseas. So… perhaps they swap out Michael Bay's digital grotesqueries animatronic, Jim Henson Co.-constructed critters make a return in the next, post-Bay reboot?
5. "X-Men: Apocalypse" (3,585 theaters) –
My Prediction: #6, $9-10 million third weekend (-60% to -56%), $150 million final
What Went Down: #5, $9.9 million third weekend (-56.6%)
I thought "X-Men: Apocalypse," which lost 568 theaters this weekend, was scheduled for a precipitous descent, from #2 last weekend to #6 this go-round. To be fair to my past self's predictions, "Apocalypse" did continue to disappoint the Donner family and its other producers at Fox. And it was right in line with what I was expecting it to gross, just $9.9 million after a $22 million second weekend (a 56.6% dip). I just figured "Me Before You" (again, the actual #6) would hold much better than it did. "Apocalypse" cost $178 million to make, and, at just $136.3 million and fading fast, it's going to have trouble even crossing the $150 million threshold in the US. I'm sure they'll make plenty more "X-Men" movies, though: internationally, it's currently at $478.5 million, and can probably clear $550 million before all is said and done. It's already the third highest-grossing "X-Men" movie abroad, but hitting only $150 million would make it just the eighth most-successful here.
—
The weekend's other new releases opened well outside the top 10. The Bollywood action-comedy-musical (aren't they all?) "Te3n" made $258K from 104 theaters to hit #20. It notched a middling $2,481 per-theater average. For first-weekend releases in 2,000+ theaters, making at least $4,500 per theater is a reasonable success. If those releases come out in fewer theaters, being a "hit" usually requires averaging more per individual location, so… this isn't great. The Colin Firth starrer "Genius," a biopic of famed New York publisher Maxwell Perkins, opened in a limited 16-theater run. With "prestige" art-house movies, the typical contemporary strategy is a platform release, wherein a movie is initially released to the big two North American moviegoing markets (LA and New York), then expanded to second-tier big-ticket spots (Chicago, Toronto, Austin), then broadened to a few theaters in other big cities, and then, ideally, added to even more spots as word-of-mouth spreads. "Genius" opened at #27, making $98,274 for a $6,142 per-theater average. A good number for such a small theater count would be closer to a $12k-per floor, so… broad expansion prospects look bleak. Toon in this Thursday, when Hollywood mercifully shows some restraint by opening only one sequel!!