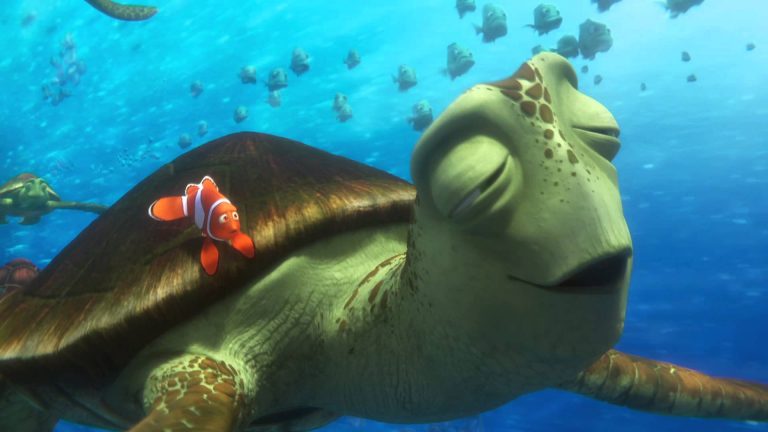 Remember when Jeff Goldblum was the lead alien (THE LEAD ALIEN) in "Earth Girls Are Easy?" Or the lead fly (THE LEAD FLY) in Cronenberg's remake of "The Fly?" Or the lead human (THE LEAD HUMAN) in "The Lost World: Jurassic Park," the original "Independence Day," and "Deep Cover?" He's also turned in fine supporting work in "Annie Hall," "The Big Chill," "The Grand Budapest Hotel," and the immortal "Cats Vs. Dogs." In the past, Goldblum has tended to choose his big box office fodder wisely. Unfortunately, he wasn't so lucky this time. The former Dr. Ian Malcolm has not commanded the clout to net a green light a project in eons, having instead transformed into a niche utility player (a great slot for him), and though his coffers were filled on this latest Roland Emmerich destruction epic, that reality was enforced this weekend, as "Independence Day: Resurgence" rode dismal notices to a disappointing $41 million weekend.
As a sequel, with a front-loaded opening weekend, its chances of recouping a reported $165 million budget domestically are… quite slim. Goldblum no doubt registered this in scanning the final weekend returns today — while sipping his artisanal latte and wearing an expensive bow tie, of course. The good news? Goldblum's going to be fine, everybody. He is, after all, quite wealthy. And his jazz band is, by all accounts, still going strong. As many pundits (including yours truly) predicted, "Finding Dory" obliterated "Independence Day" by double digit millions. I thought it would be a $15 million margin, but it wound up being a $22 million trouncing.
Actual Domestic Top 5:
1. "Finding Dory" (PG, 4,305 theaters) –
My Prediction: #2, $70 million second weekend (-48%)
What Went Down: #2, $73 million second weekend (-46%)
"Dory" once again swam away from the pack (sorry, I had to). The Disney-Pixar monster hit posted a second spectacular weekend frame, actually finishing a little better than I was expecting. I thought it would drop by a very reasonable 48% from its record-breaking first weekend (its $135 million three-day gross was the best-ever finish for an animated film), to a still-ridiculous $70 million. I was pretty close — it wound up easing by 46% to $73 million. This in itself was a new record, the best second-weekend gross by an animated feature in history (and the eighth-best second-weekend gross overall). The water park adventure's total at present is $286.5 million, and it may be poised to set ANOTHER animated weekend record over the extended holiday weekend, when families typically use their extra free time to flood well-ventilated movie theaters, and movies post softer descents than they otherwise might.
2. "Independence Day: Resurgence" (PG-13, 3,508 theaters) –
My Prediction: #2, $55 million opening weekend, $130 million final
What Went Down: #2, $41 million opening weekend
I tapped "Independence Day: Resurgence" to come in at the high end of expectations. Turns out even I was optimistic, as the Summer of Sequel-itis continued in full force. '90s nostalgia didn't infect the decision-making of "ID42″'s target audience (men ages 18-49) nearly as much as I was anticipating. Thank goodness, because this thing is, by most informed accounts, pure dreck — 20th Century Fox had such little confidence in their product this time around, they didn't even bother to screen "Resurgence" for film critics ahead of its Thursday evening preview shows. Because next weekend actually is Independence Day Weekend, "Independence Day: Resurgence" has a shot at legitimate redemption, since its ideally positioned to capitalize on a holiday weekend — when movies have stronger holds, anyway, as many folks have at least one bonus day off to swing by movie theaters. We'll see if this interstellar invader epic has the juice to hit a mid-$100 million total in the states. I'm thinking it drops like a stone next weekend, albeit like a smaller stone than it otherwise would. A 55% drop (sort of reasonable for sequels of this size, albeit not on holiday weekends) instead of a 70% one sounds about right, but it's in for a bumpy July from that point on.
3. "Central Intelligence" (PG-13, 3,508 theaters) –
My Prediction: #3, $17.8 million second weekend (-50%)
What Went Down: #3, $18.2 million second weekend (-48.7%)
I kept my streak of predicting this one's grosses within $1 million intact. My call was a 50% drop to $17.8 million, what happened was a (very, very mildly) stronger hold, as the Little Hart-Big Johnson collaboration dropped by 48.7% to $18.2 million, for a $69.3 million total (heh, 69). The $50-60 million-budgeted throwback buddy cop comedy should finish in the $100 million range domestically, good enough to probably warrant a sequel. And hey, speaking of sequels, "Independence Day: Resurgence" is really my biggest blown call in my run of box office futures thus far, and it still finished in the same slot as I expected, within $15 million of the moderate opening weekend I expected. So… I'm doing all right overall. But man oh man, I am the fucking "Central Intelligence" WHISPERER RIGHT NOW SON. Let's see if I can guess next weekend within $100,000. Place your bets, people.
4. "The Shallows" (PG-13, 2,962 theaters) –
My Prediction: #4, $16 million opening weekend, $60 million final
What Went Down: #4, $16.8 million opening weekend
The Boobs-vs.-Beasts genre got a boost (boobst?) this weekend, as Blake Lively's "The Shallows" had a better-than-expected (by most, but not by this writer) opening weekend, carving out some success against "Independence Day." Obviously it could never have hoped to open anywhere near Goldblum and Co., but it's going to hold much, much better in the coming weeks, riding very good notices for a horror movie and positive word-of-mouth. The $17 million thriller could hit $70 million or more before all is said and done. You heard it here first: by weekend three, "The Shallows" will be posting similar grosses "Independence Day" at the box office (I'm saying $11 million weekends for both).
5. "The Conjuring 2" (PG-13, 3,033 theaters) –
My Prediction: #5, $7 million opening weekend
What Went Down: #5, $7.7 million third weekend (-48.2%)
Well, it was a photo finish, but at the end of the day, "Pleasantville" writer-director Gary Ross's slavery passion project "Free State of Jones"… OPENED OUT OF THE TOP 5 JUST AS I PREDICTED. When weekend estimates were released, "Free State of Jones"'s studio, STX, pegged "Jones" to hit $7.7 million, above the $7 million estimated by Universal for "The Conjuring 2." When weekend actuals came out this afternoon, however, those slots were reversed, as "The Conjuring" hit the $7.7 million figure, ahead of "Jones" by a fairly slim margin (just $200K — I was estimating it to finish at #6 with a bit less, $6.5 million). Barring a great 4th of July recovery weekend, "Jones" is pretty much DOA. Poor reviews for would-be prestige pictures like this latest McConnaissance offering make a bigger impact than they do for, say, a would-be blockbuster a la "ID42," because they skew towards older, more discerning audiences. I really like Ross as a filmmaker. He co-wrote "Big," he wrote "Dave," and he wrote and directed two of the three best Tobey Maguire movies, "Pleasantville" and "Seabiscuit." He also wrote and directed the original "The Hunger Games," but we don't need to talk about that. I applaud him for trying to make an adult-oriented movie with challenging content, but… this thing, carrying a $50 million price tag, has reeked of flop sweat for a while now.