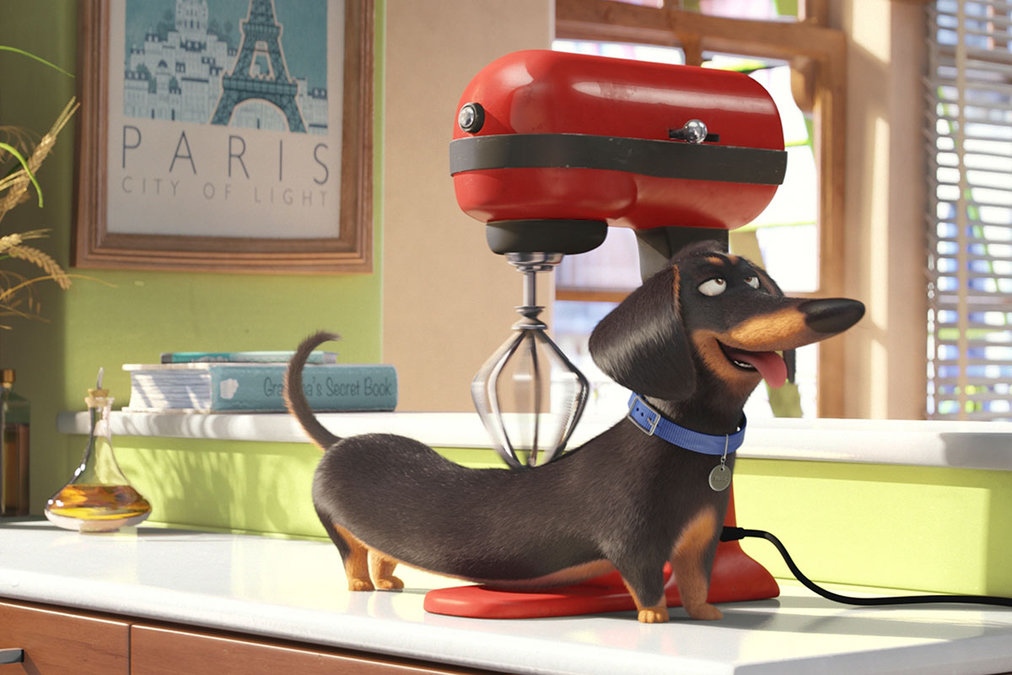 I hate to say it, but I told you so. Despite an understandable 51% slide, Louis CK and co. outpaced the rookie "Ghostbusters" reboot in their sophomore weekend, though the race was, as I also predicted, fairly close.
Actual Domestic Top 5, July 15th-17th:
1. "The Secret Life of Pets" (4,381 theaters) –
My Prediction: $60 million (-43%) second weekend, $315 million final
What Actually Went Down: $50.8 million (-51.3%) second weekend
The $75 million-budgeted Universal smash now stands at $203.4 million after a mammoth second weekend, where it pulled in $50.5 million for an $11,604 per-theater average. The haul was less than half of its insane $104.4 million opening, but still a spectacular sum. Universal's Illumination cartoon house has quietly become the second biggest animation destination in the nation, behind strong showings for "Pets," the $1.159 billion dollar-grossing "Minions" and its two "Despicable Me" predecessors (which pulled in $543.1 million and $970.8 million worldwide), and "The Lorax" ($348.8 million). "The Secret Life of Pets" is well on its way to joining "Minions" in the $300 million domestic gross club (it hasn't opened in many international markets yet, making its worldwide take tougher to project) and I'm sure will spawn five sequels, a prequel, a Chinese-language spinoff, and a remake before you know it. HOLLYWOOD.
2. "Ghostbusters" (PG-13, 3,963 theaters) –
My Prediction: $50 mill opening weekend, $130 million final
What Actually Went Down: $46 million opening weekend
Speaking of sequels and spinoffs, our runner-up this weekend offered us a two-for-one combo pack in that department. The $144 million-budgeted franchise reboot of Sony's beloved '80s property surely disappointed its shareholders With a decent-but-unspectacular $46 million debut weekend. Despite generally positive notices from critics, the Melissa McCarthy-Paul Feig collaboration, featuring an all-woman Ghostbusters squad, failed to excite fanboys as much as it should have, due in large part to a famously reviled trailer and, yes, some sexism. It's going to be an uphill battle for this puppy to recoup its costs stateside, providing yet another promising sign of audience sequel/prequel/reboot fatigue. Its B+ CinemaScore indicates that those who did turn out for it generally dug it, so there is an outside shot it reaches the $150 million mark (any time a big movie grosses three times its opening weekend take, that suggests it has capitalized on positive word-of-mouth).
3. "The Legend of Tarzan" (PG-13, 3,551 theaters) –
My Prediction: #4, $12 million (-45%) third weekend, $120 million final
What Actually Went Down: #3, $11.4 million (-45.5%) third weekend
Brunette Margot Robbie has brought in $103.4 million thus far. "Tarzan" will probably finish in the vicinity of $125-130 million domestically, falling short of its reported $180 million budget — but it's been performing okay when international receipts are factored into its coffers, pulling in $91.7 overseas to date for a $195.1 million worldwide sum to this point. Crossing the $100 million mark makes this Samuel L. Jackson's 24th movie to cross the domestic century mark. And there are bound to be many, many more so long as he keeps pumping out Marvel flicks. Could "Tarzan" be the start of yet another Sam Jackson franchise, to go along with the Marvel Universe and the resurrected "XXX" series?
4. "Finding Dory" (PG, 3,536 theaters) –
My Prediction: #3, $12 million (-43%) fifth weekend, $460 million final
What Actually Went Down: #4, $11.3 million (-45.8%) fifth weekend
The forgetful lesbian fish saga has pulled down $445.7 million in the US alone, contributing the majority of its $721.9 million worldwide take to this point. A $475 million final still seems possible, though it's a bit of an outside shot now. The $1 billion threshold may still be broached, as "Dory" is not even close to being done abroad.
5. "Mike and Dave Need Wedding Dates" (R, 3,008 theaters) –
My Prediction: #5, $8 million (-50%) second weekend, $45 million final
What Actually Went Down: #5, $7.7 million (-53.9%) second weekend
Fox's modestly-received raunch-fest has brought in $31.5 million after two weeks, and is going to be hard-pressed to bring in more than $45-50 million if it doesn't stabilize its holds in the weeks ahead. Across the industry, this may be seen as a bit of recovery by Zac Efron after the debacle that was "Neighbors 2," if only because "Mike and Dave" is operating with a much smaller budget, and thus with much smaller expectations. It's going to make back its money by midweek.
A note: the latest Bryan Cranston flick, "The Infiltrator," made $5.3 million from just 1,601 screens in its debut weekend, good for a mediocre $3,313 average and a $6.8 five-day haul. Even if it holds incredibly well, Heisenberg and co. will have trouble even hitting a $25 million final stateside, much less than its $47.5 million price tag. Too bad, because Cranston is one of the finest actors working, and his "Trumbo" last fall posted similarly middling results — a$7.9 million final against a $15 million budget, although very good notices from critics and an Oscar nomination for Cranston may have salvaged its reputation in the eyes of Hollywood power brokers.