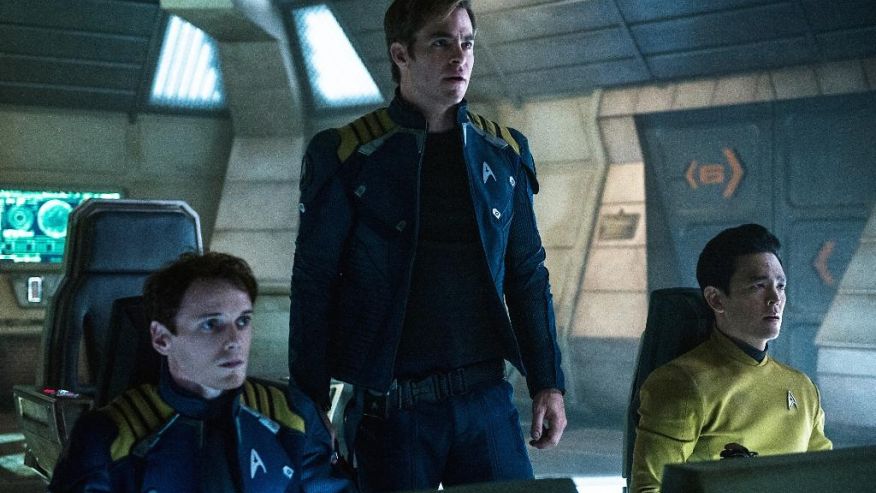 Actual Domestic Top 5, July 22nd-24th:
1. "Star Trek Beyond" (PG-13, 3,928 theaters) –
My Prediction: #1, $85 million first weekend weekend, $250 million final
What Actually Went Down: #1, $59.3 million first weekend
Well, I was close.
OR WAS I?
No. No I wasn't. "Star Trek Beyond" fell far beneath my expectations; it was absolutely not buoyed by news of star Anton Yelchin's passing. It pulled in 16% less than the $70.2 million amassed in the first weekend (three years ago) of its unloved predecessor, "Star Trek Into Darkness" (which might as well have called itself "Star Trek 12: The Wrath of Khan Again") — before inflation is taken into account. With inflation, that difference is actually 20%. Despite a stellar 84% "Certified Fresh" Rotten Tomatoes rating and a solid 70% approval rate on Metacritic, Justin Lin's pass at a "Trek" adventure suffered from the same audience sequel-itis that has been dogging Hollywood all summer.
2. "The Secret Life of Pets" (PG, 4,048 theaters) –
My Prediction: #3, $28 million (-45%) third weekend, $315 million final
What Actually Went Down: #2, $29.6 million (-41.8%) third weekend
This is the actual number I was closest to hitting during last week's wild prognosticating frenzy. I pitched it just a bit outside in estimating the reception a fifth "Ice Age" movie would receive (more on this below); I figured that would be an easy #2 to "Star Trek" this weekend. But, well, I figured dead wrong. Had I but known! Because I was really on-point with "The Secret Life of Pets," if not in its finishing slot then at least in its raw numbers. It held up even a bit better than I had expected, too, which is a good sign as we head into the dog days of summer — as the ensuing month figures to offer even less direct competition to "Pets" than it has had to fend off thus far. I just really couldn't fathom Universal's smash would make more than a Fox thoroughbred franchise in its third weekend. Chalk up another victory to original content in the marketplace!
3. "Lights Out" (PG-13, 2,818 theaters) –
My Prediction: #4, – $26 million first weekend, $60 million final
What Actually Went Down: #3, $21.7 million first weekend
The Wan-A-Thon continues to fulfill its successful summer trajectory, as its latest, "Lights Out," outperformed most pundits' expectations (though it didn't quite meet mine), pulling in a quite solid $21.7 million opening weekend. It's going to need some legs to surpass the $60 million final I projected for it last week though. Many horror flicks, like sequels, can be fairly top-heavy, and disintegrate rapidly in successive weekends. "Lights Out" definitely helped chip away at some of the "Ghostbusters" reboot's crowd, more good news for fans of original ideas at the movies.
4. "Ice Age: Collision Course" (PG, 3,992 theaters) –
My Prediction: #2, $60 million first weekend, $200 million final
What Actually Went Down: #4, $21.4 million first weekend
This massive disappointment for Fox will be lucky to clear $60 million stateside. Internationally, it could still hit $500 million. The world is a dark and twisted place.
My big failing in my weekend predictions, it turns out, came in putting too much stock in the cache of a 14 year-old franchise whose prime achievement has been excessively warping history (seriously, "Ice Age: Dawn of the Dinosaurs?" DINOSAURS DIED MILLIONS OF YEARS BEFORE THE DAMN ICE AGE!!). Maybe now Ray Romano can finally get back to creating some serious, substantive work, the kind of insightful social-justice themed stuff that he has been so lauded for in the past. You know, like "Welcome To Mooseport."
5. "Ghostbusters" (PG-13, 3,963 theaters) –
My Prediction: #5, $24 million (-48%) second weekend, $130 million final
What Actually Went Down: #5, $21 million (-54.3%) second weekend
Another case of me accurately predicting the finish of a flick, but being a bit overly optimistic in estimating its haul. Sony's hoped-for franchise restart has made an underwhelming $86.3 million domestically to date, and will be hard-pressed to take in more than $115 million stateside, let alone $144 million (its reported budget, the unofficial hallmark of what defines a studio success story).