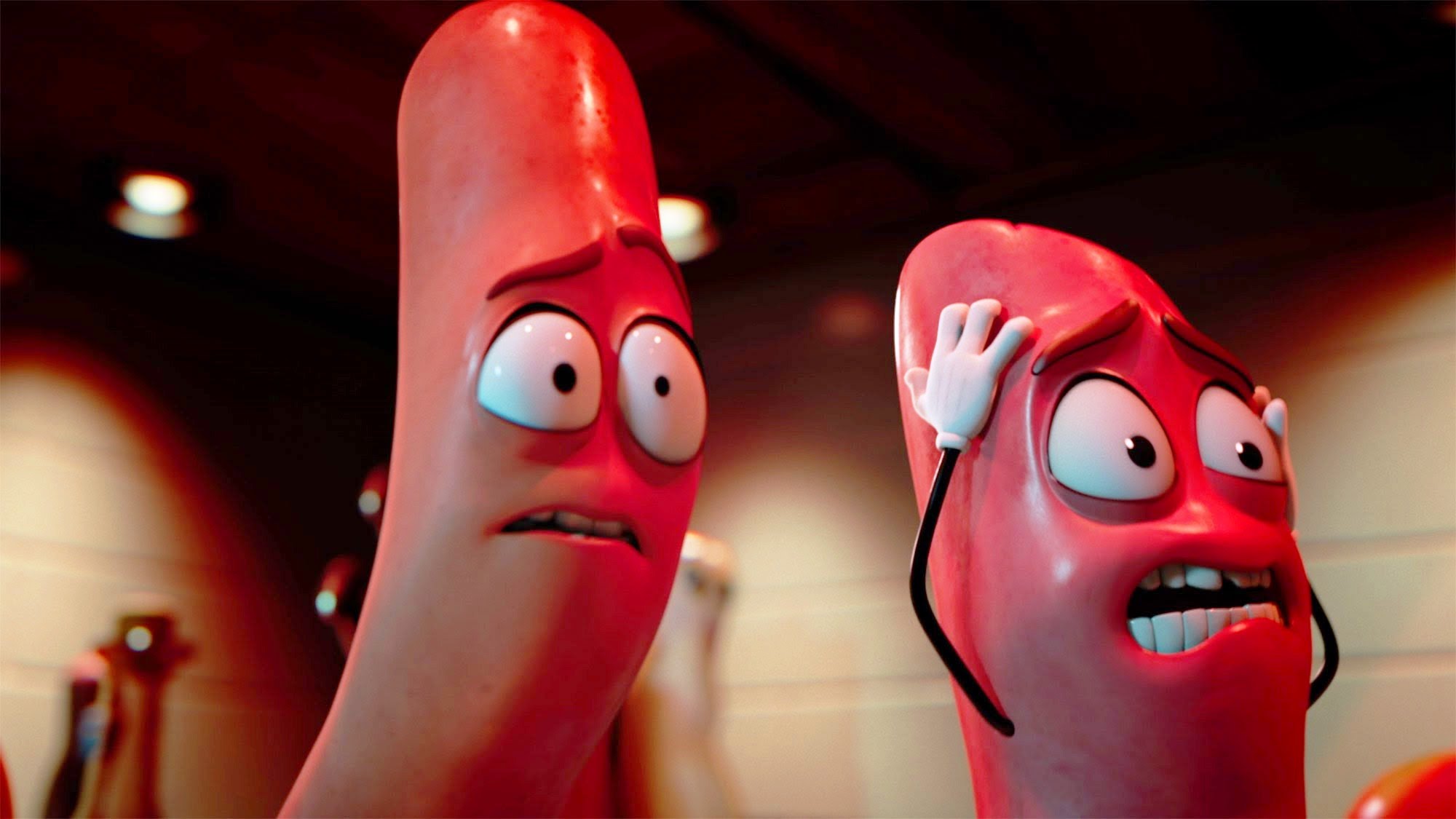 Can some feisty sausages defeat some hot pigtails this weekend? ONLY TIME WILL TELL. But I can tell you what I think. Read on.
Weekend: August 12th-14th, 2016
Big New Releases: "Pete's Dragon," "Sausage Party," "Florence Foster Jenkins," "Anthropoid"
Big Holdovers: "Suicide Squad," "Jason Bourne," "Bad Moms," "Star Trek Beyond," "The Secret Life of Pets"
1. "Suicide Squad" (PG-13, 4,255 theaters) – $55 million (-59%) second weekend, $310 million final
After shattering August opening-weekend records with a $133.7 million opening, "Suicide Squad" has held up incredibly well during the week. It took in $13.1 million on Monday, a whopping $14.3 million on Tuesday, and $9.8 million on Wednesday. Fan interest is stronger than its detractors would have expected. Though Filmcore staff reactions ranged from apathy to antipathy, DC may be doing right by its devotees (and pimply teenagers in general), after all. It's going to hold up much better than the awful 69.1% second weekend drop suffered by prior DC Extended Universe entry "Batman v Superman: Dawn of Justice" way back in April. I'm pegging it at a 59% decline to $55 million and retention of pole position this weekend; a big drop for a front-loaded superhero movie is to be expected, although dropping by 45-50% (or less) would be a more desirable outcome for Warner Brothers that would have been in the realm of possibility had they made a better movie. Still, they'll make something in the territory of $230 million by the end of the weekend, and have a good shot at becoming the eighth the movie this year to crack the $300 domestic barrier. It's already the eighth biggest movie of 2016 domestically, with oodles more cash to come for the Will Smith-Margot Robbie comic book baddie extravaganza.
2. "Sausage Party" (R, 3,103 theaters) – $45 million first weekend, $120 million final
Writers Seth Rogen and Evan Goldberg's latest, the animated food-vengeance comedy "Sausage Party," has been stoking the flames of audience interest, which is largely the byproduct of a fantastic trailer. "Suicide Squad" certainly benefitted from similarly effective marketing last weekend in the face of withering reviews. Making a product that at least looks halfway decent actually matters, people! The well-reviewed "Party" (rocking an well-reviewed">83% rating on Rotten Tomatoes, but a just-okay http://www.metacritic.com/movie/sausage-party?ref=hp% rating on Metacritic) should open much better than Rogen and Goldberg's three best prior opening weekends. "The Green Hornet" netted $33.5 million in 2011 ($36.9 million today), "Superbad" made $33.1 million in 2007 (equivalent to $41.6 million today), and "Pineapple Express" amassed $23.2 million in 2008 ($28.1 million today). "Sausage Party" should function as a sorely needed bounce-back into the wins column for Rogen and Goldberg, after "Neighbors 2: Sorority Rising" mercifully flopped earlier this summer (finishing with just $55.3 million stateside), and "The Night Before" brought in a scant $43 million last winter. After nabbing a solid-but-unspectacular $3.3 million in Thursday night previews, an opening haul in the $40-45 million range feels likely.
3. "Pete's Dragon" (PG, 3,702 theaters) – $20 million first weekend, $75 million final
Despite opening in the widest amount of theaters among any new release this weekend, "Pete's Dragon" is not going to reach the levels of "Sausage Party" at the box office. Expect Disney's totally unnecessary, creatively bankrupt $65 million adaptation of its not-very-beloved 1977 live-action/animation mash-up of the same name to do moderate business this weekend, and experience solid holds in the weeks ahead. Why? Fantastic reviews almost across the board (currently at 85% on Rotten Tomatoes and a more muted 72% on Metacritic). But "The Jungle Book" this is not. Audience brand awareness just isn't there, and trailers have not reached the overwhelming levels of this spring's Jon Favreau blockbuster smash. This should perform at or a bit beneath the low end of Disney's expectations, closer to Steven Spielberg's misfire "The BFG" (another adaptation of a property without much of a built-in fan base) from earlier this summer. That film was not nearly as critically lauded as "Dragon," though, and has suffered embarrassing weekend-to-weekend slides since its $18.8 million debut weekend gross (suffering awful weekend-to-weekend drops of 58.4%, 51.5%, and -73.3% during its first month — pretty high for kiddie fare). Given these glowing notices, though, "Pete's Dragon" should hold up a bit better, and with school on the horizon soon, younger children may be looking for a nice summer distraction before they're finally back in the world of textbooks and whiteboards. It could finish with $70-85 million before all is said and done, an okay domestic total.
4. "Jason Bourne" (PG-13, 3,524 theaters) – $9 million (-60%) third weekend, $150 million final
Look for the Damon death spiral to continue, as "Bourne" will continue to lose a considerable chunk of its adult male demographic to "Sausage Party" and "Suicide Squad" this weekend. It eroded by 62.2% in its sophomore weekend, to $22.4 million. The $120 million-budgeted spy thriller will army-crawl to $130 million by the end of the weekend, and perhaps eventually hit the $150 million mark. But Universal has got to be disappointed in their fifth Rudlum adventure. Let's hope this convinces them not to make a sixth.
5. "The Secret Life of Pets" (PG, 2,956 theaters) – $7 million (-41%) fifth weekend, $350 million final
The Meryl Streep-Hugh Grant historical biopic "Florence Foster Jenkins," which looks about as lively as a wax sculpture of Ben Stein, opens in just 1,528 theaters this weekend. Although "Bad Moms" will only be losing 27 theaters from its tally, for a 3,188-theater count total, look for Universal's leggy animated performer "The Secret Life of Pets" to be Streep's main challenger for the five-seed this weekend, as Louis CK and co. try to notch one final weekend in the box office top five. I'm expecting its descent this weekend to be right in line with its performance over the last few weeks, despite losing 461 theaters today. That would give it a 40% drop to right around $7 million, for a robust $335 million stateside total by Sunday. "Jenkins," if it's lucky, will finish right around there too. I'm going to call this race for the kiddies by just a hair, and slot "Jenkins" in at a $6.5 million finish.