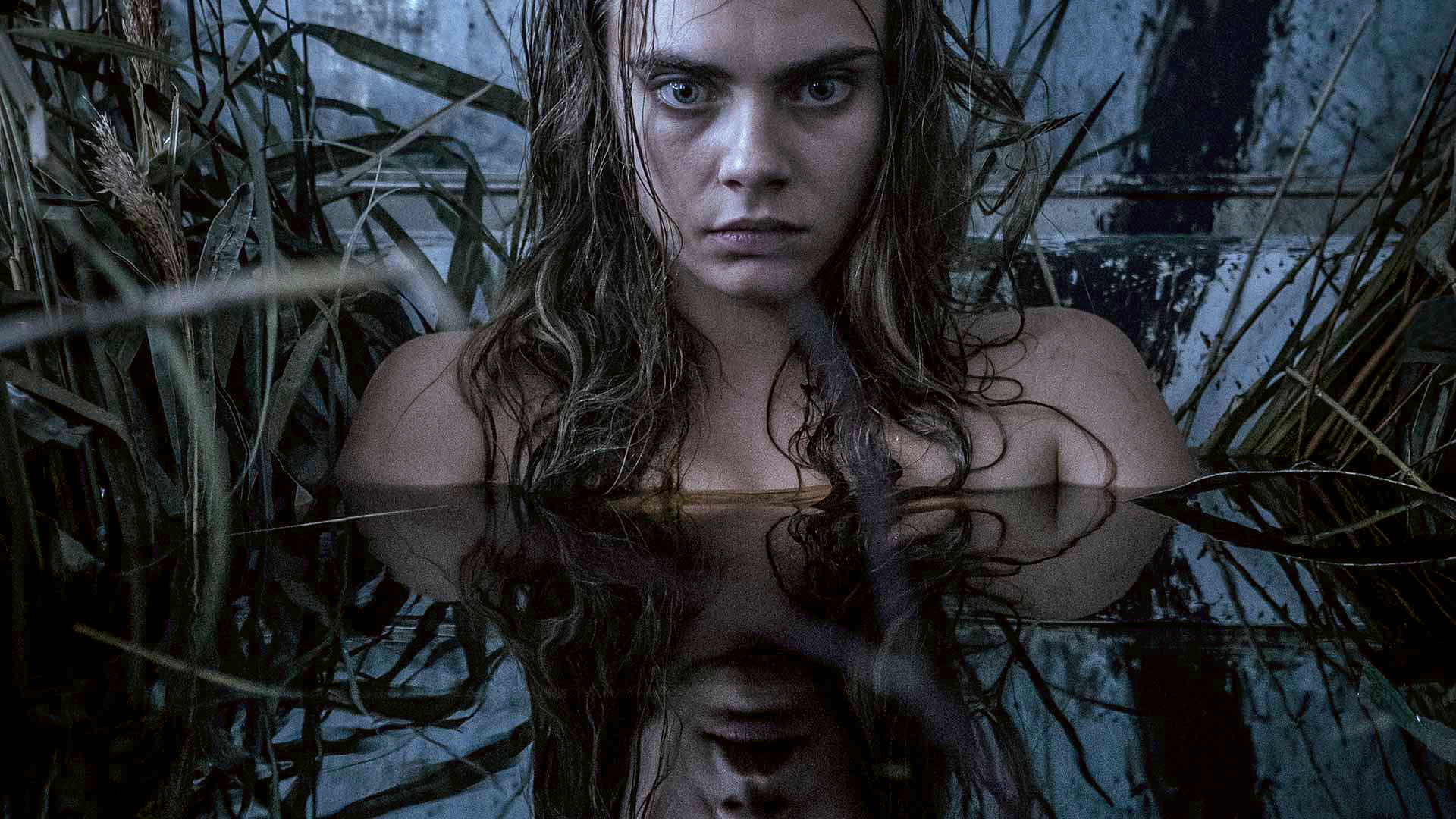 Maybe I should give contemporary audiences more credit. Although I thought "Suicide Squad" was mediocre, not fully awful, I respect that the paying public ran screaming the other way this weekend. "Sausage Party," a competent if underwhelming R-rated animated excursion from the minds of Seth Rogen and Evan Goldberg, experienced a steep Friday-to-Saturday drop but still handily lapped the debut of the "Pete's Dragon" remake, Disney's latest attempt to wring blood from the stone of an old Disney movie. "Florence Foster Jenkins" made about as much as I thought it would and finished outside the top 5, which I also predicted, but its weekend gross put it even further out of the top 5 than I had pegged it to.
1. "Suicide Squad" (PG-13, 4,255 theaters) –
My Prediction: #1, $55 million (-59%) second weekend, $310 million final
What Actually Went Down: #1, $43.5 million (-67.4%) second weekend
Although I pegged "Suicide Squad" for a near-60% fall in its second weekend, that number is usually a healthy-ish sign for a massive, front-loaded follow-up franchise entry. 67.4%, though, is a bit more ominous, indicative of fan apathy. There's been a groundswell of negativity surrounding "Squad" critically (it's reached "Batman v Superman" levels of loathing on Rotten Tomatoes, a 27% approval rating); and clearly that has extended to audiences. Its worldwide total sits at $465.1 million, including a $222.6 million domestic sum. "Batman v Superman" fell even more, albeit by 69%, and eventually wrapped up with $325 million stateside. "Squad" will be lucky to limp to a similar sum, especially if it continues to drop like a stone. A $300 million finish is still quite likely. Will it cross that evasive $1 billion international barrier? Only time will tell, but it's looking more and more like an uphill battle.
2. "Sausage Party" (R, 3,103 theaters) –
My Prediction: #2, $45 million first weekend, $120 million final
What Actually Went Down: #2, $34.2 million first weekend
The good about my prognosis: "Sausage Party" did hit #2 this weekend, and it did in fact do so by a margin that was quite comfortably ahead of its fellow rookie release, "Pete's Dragon," which came out in 599 more theaters. So I was right on that front. The bad: I was optimistic by a factor of $10.8 million! After it grossed $13.3 million on Friday ("Suicide Squad" made $13 million, again en route to a sum north of $40 million), I figured there was no way it would finish below, say, $40 million this weekend. And that would have been acceptable to me. But yeesh. The word spread on this one fast, and the unimpressed Friday night crowds clearly got to their friends on Saturday and Friday. I know that I myself was warned by Greg Brecher about this bad boy, but I saw it on Sunday anyway. It was.. just okay. But I applaud Rogen, Goldberg and co. for trying to do something new and different. Its B CinemaScore does not bode well for the weeks ahead (usually an A- is the lowest you'd want a CinemaScore to go), although it fared pretty well with critics, which is a bit of a surprise. "Party" is going to be hard-pressed to meet my $120 million prediction; it'll be lucky to even hit $100 million if it holds up as poorly as I'm now anticipating.
3. "Pete's Dragon" (PG, 3,702 theaters) –
My Prediction: #3, $20 million first weekend, $75 million final
What Actually Went Down: #3, $21.5 million first weekend
Despite a stellar A CinemaScore, "Pete's Dragon" had a less-than-stellar $21 million first-weekend take for Disney, an opening more in line with last month's big-budgeted Spielberg flop "The BFG" ($18.7 million) than it was with this spring's similarly pointless and critically lauded "The Jungle Book" remake ($103 million). On the plus side for Buena Vista shareholders, fan enthusiasm should buoy "Pete" beyond its $65 million production price tag in the weeks ahead, and as an effects heavy flick with the staple of Disney, it should enjoy solid returns abroad. Regardless, this has to be a big disappointment for its studio. And that is excellent news for people who are sick of the reboots and retreads we've been force-fed in abundance for the past decade or so.
4. "Jason Bourne" (PG-13, 3,524 theaters) –
My Prediction: #4, $9 million (-60%) third weekend, $150 million final
What Actually Went Down: #4, $13.8 million (-38.2%) third weekend
Matt Damon and Paul Greengrass were dealt a bit of good news at the box office this weekend (I feel like Tommy Lee Jones was apathetic), as their "Jason Bourne" saw its weekend-to-weekend decline percentage stabilize. It eased by a slim 38.2%, to $13.8 million, despite ceding 511 theaters to new releases across the Friday-to-Sunday span. The flick's domestic total thus far is $127 million, and it should have no problem cruising into the $160 million terrain here. This is quite the drop from the $176 million of "The Bourne Supremacy" ($245.8 million in today's dollars) and the $227 million of "The Bourne Ultimatum" ($286.4 million in 2016).
5. "Bad Moms" (R, 3,188 theaters) –
My Prediction: #7, $6 million (-57.2%) third weekend, $85 million final
What Actually Went Down: #5, $11.4 million (-18.9%) third weekend
"Bad Moms" held up terrifically, after dropping a scant 27 theaters this weekend. The $20 million hit, starring Mila Kunis, Kristen Bell and Kathryn Hahn (and improving all three actresses' stock significantly), fell just 18.9%, which is a fantastic hold for any wide non-Oscar season release. I thought it would collapse, by a lot, to $6 million or thereabouts this weekend, edged out of its core demographic (adult women)'s hearts by a bunch of talking food that says "fuck" a lot. I thought our #5 finisher this weekend would be "The Secret Life of Pets," and that just behind it would be the latest Meryl Streep-talking-in-a-funny-accent venture, "Florence Foster Jenkins." I WAS WRONG. "Moms" has made $71.4 million in US box office receipts to date, and, if it continues to hold up this well in the weeks ahead, has a good shot at cracking the magical $100 million mark. For comparison's sake, "Trainwreck" made $9.6 million in its third weekend last year, for a $79.6 million 17-day total, en route to a $110.2 million finish (off a $35 million budget). Last year's other big R-rated summer femme-baiting flick "Spy" brought in $11.2 in its third weekend, for a $75.1 million total. That Paul Feig-Melissa McCarthy hit brought in $110.8 million on a $65 million budget. Both those films opened bigger than "Bad Moms," but both fell much more in their third weekends. If "Bad Moms" can keep up these legs, it could match or even surpass those movies' stateside sums.
"The Secret Life of Pets," my predicted #5, held up much better than I had anticipated. It just didn't hold up quite as well as "Bad Moms." "Pets" brought in $9.1 million, falling just 21.2%. It's banked $336.2 million to date domestically, and could wind up with $360-$370 million before all is said and done. "Florence" made just $100K more than I had expected, $6.6 million from just 1,528 theaters, for a decent-ish $4,320 per-theater average. The $29 million Stephen Frears historic dramedy, about a middle-aged British housewife who suddenly becomes a singing sensation, notched a good A- CinemaScore from audiences this weekend. If its theater count doesn't get sliced up in the weeks ahead, it could make its money back in the US.