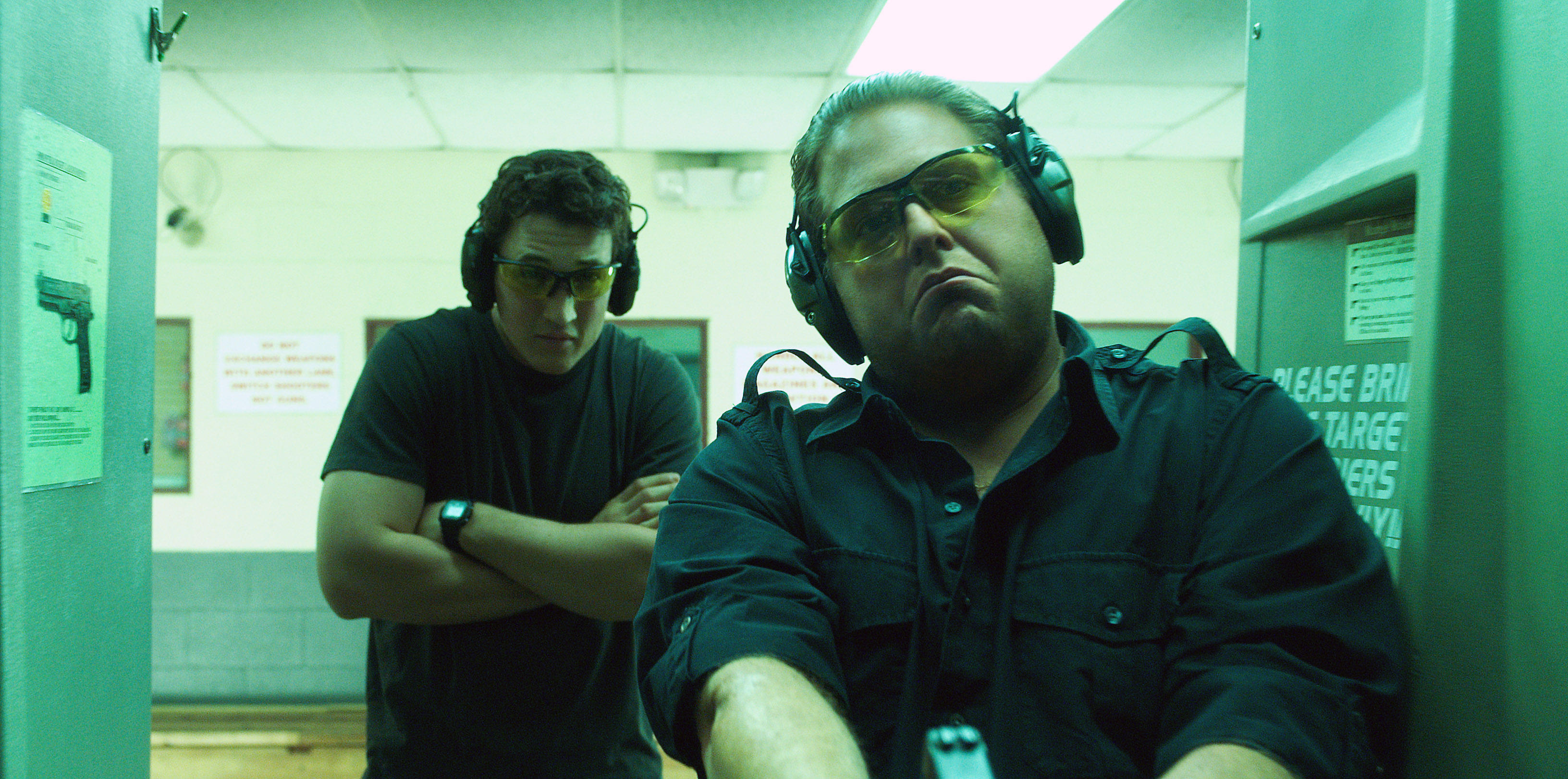 So Todd Phillips has made an action comedy for grown-ups, starring two young actors who are actually pretty good and not, you know, Channing Tatum. This is one of the few new movies I've actually been excited to see during a long, interminable slog of a cinematic summer. The latest stop-motion gamble from Portland's Laika Studios opens too — this marks the first time in I don't even know how long where TWO movies I'm genuinely excited to see are dropping on the same day. After so many months of retreads and disappointments, will audiences even bother showing up for original content? I say yes, but in more modest numbers than, say, "Jason Bourne" pulled in. But these two movies are noticeably cheaper than your typical summer fare, so they won't have to bring in nearly as much coin to turn a profit at the box office.
Weekend: August 19th-21st, 2016
Big New Releases: "Kubo and the Two Strings," "Ben Hur," "War Dogs"
Big Holdovers: "Sausage Party," "Pete's Dragon," "Suicide Squad," "Jason Bourne," "Bad Moms," "The Secret Life of Pets"
1. "War Dogs" (R, 3,258 theaters) – $22 million opening weekend, $75 million final
"War Dogs" has gotten polarizing notices from critics, with the highs being raves and the lows being… not-raves. The great Michael Phillips, of the Chicago Tribune, absolutely loathed "War Dogs," noting in his 1.5-star review that the movie "promises rollicking bromance with a chase of moral reckoning, but 'War Dogs' doesn't have the nerve or the filmmaking acumen to challenge the audience." By stark contrast, Variety's chief film critic Owen Gleiberman (formerly of Entertainment Weekly, back when they cared about movies) delivered a rabid rave review, calling it "nimble, gripping and terrific." This is the national critical conflict surrounding "War Dogs," which sounds like it employs the questionable morality of Hill's prior detour to "serious" filmmaking, in "The Wolf of Wall Street" three years ago. That movie, though its ethics were a bit divisive among its audiences, was a smash with critics. "War Dogs" is averaging just 56% on Metacritic
and a similarly middle-of-the-road 63% on Rotten Tomatoes.
The trailers have been great, the splashy poster graphics have been enticing, the movie's stars have real acting chops. Audience interest to this point has been positive, and it should open right in line with "Wolf," which made $19 million in adjusted dollars during a very crowded Christmas frame. It rode great Oscar buzz and overwhelmingly positive word-of-mouth wound up grossing $116.9 million domestically, and $126.4 million in today's ticket prices. "War Dogs" should open stronger with less direct, fresh competition, but unless fans have a very different take on Warners' modest $45 million investment, it won't hold up nearly as well. Look for it to pull in $20-24 million (my official prediction is $22 million) this weekend, and to finish its run with a total that's more in line with last year's big amoral drama "The Big Short" (which made $70.3 million) with something in the $70-75 million range.
2. "Suicide Squad" (PG-13, 3,924 theaters) – $20 million (-54%) third weekend, $300 million final
Last weekend, David Ayer's reviled entry in the new DC Extended Universe Saga plummeted in its sophomore frame, dropping by 67.4% to a $43.5 million weekend gross. It should stabilize a bit this weekend, even as it fights with two somewhat-anticipated new wide releases. "Stabilize" being a relative term, look for it drop by over 50% once again, but this time in the 55% range. I'm pegging it for a 54% drop, a $20 million weekend take and something in the range of a $265 million 17-day total.
3. "Sausage Party" (R, 3,103 theaters) – $17 million (-50%) second weekend, $105 million final
After a string $34.2 million first weekend haul, the animated food fest will see its audience share cut in half, as it should lose a big core of its two prime demographics to "War Dogs" (young adult men) and "Kubo and the Two Strings" (young adult women). That will bring the $19 million Rogen/Goldberg raunch-com's 10-day sum to around $70 million.
4. "Kubo and the Two Strings" (PG, 3,260 theaters) – $16 million opening weekend, $60 million final
The latest collaboration from Focus Features' partnership with Laika Studios, Travis Knight's Portland-based stop motion animation studio, has been heavily promoted here in LA, blanketing the city in beautiful billboards. Laika has consistently produced critically lauded stop motion gems since their first feature project, Henry Sellick's spooky Neil Gaiman comic book adaptation "Coraline," hit the scene in 2009, grossing $75 million domestically. Laika hasn't scaled those heights since. It's always confounded me that stop motion animated projects have consistently proven unable to reach the lofty box office heights of inferior computer animated fare. The highest-grossing stop motion movie ever is 2000's Mel Gibson-Aardman hit "Chicken Run," which brought in $106.8 million ($171.6 million if released today). "Coraline" comes in second, unadjusted. The adjusted second-place finisher is another great Selick piece, "Tim Burton's The Nightmare Before Christmas." The Jack Skellington musical has made $75.1 million since being unveiled in 1993 (including 3D re-releases) — that would translate to ">$136.8 million in 2016 coin.
Laika's post-"Coraline" features have all grossed between $50 million and $56 million. "Kubo" has an outside shot at besting that figure. The $60 million-budgeted "Kubo" should open right in range with its Laika predecessors, bringing in $16 million this weekend and capitalizing on great buzz and a dearth of other new family-friendly theatrical content in the weeks ahead to finish right in line with the other non-"Coraline" titles, finishing with $60 million domestically. Laika's last release, "The Boxtrolls" (which is pretty cute and definitely worth a look if you haven't seen it), opened to $17.3 million in 2014, but didn't hold up as well as prior Laika titles, finishing with a disappointing $50 million stateside off an identical $60 million budget. Knight and Focus certainly are hoping for big returns abroad, banking on the Japanese setting and storyline for audience appeal in that part of the world.
5. "Pete's Dragon" (PG, 3,702 theaters) – $13 million (-40%) second weekend, $80 million final
Riding stellar reviews and enthusiastic responses from the audiences who actually did turn out to see it during its low-key debut, "Pete's Dragon" looks to boast a relatively good hold this weekend. I see it falling 40% from its $21.5 million opening, which would put it at a $13 million second frame. It should still wind up recouping its $65 million production budget here, finishing with around $75-80 million. That is not exactly a terrific result, but it'll have to do. Let's up the movie's failure to take off discourages Disney from too many more stupid remakes.
Speaking of stupid remakes, Timur Bekmambetov's totally unnecessary remake of "Ben Hur" (the 1959 Charlton Heston classic was itself a remake, but damn it that movie was the definitive remake) should ride tepid buzz on its shitty digital chariots to a pedestrian opening outside of the top five. Despite a PG-13 MPAA certification and an 3,084-theater release, Paramount's $100 million gamble, composed primarily of no-name stars in the lead roles (with supporting work from Morgan Freeman in a hilarious dread-lock wig, as a wise old horse trainer with a wonderful voice), will suffer a $10-12 million opening weekend and finish just outside the top 5, because it looks awful and nobody cares about another "Ben Hur" remake. Hopefully this will discourage people from kicking the tires on oh, I dunno, a "Spartacus" remake.