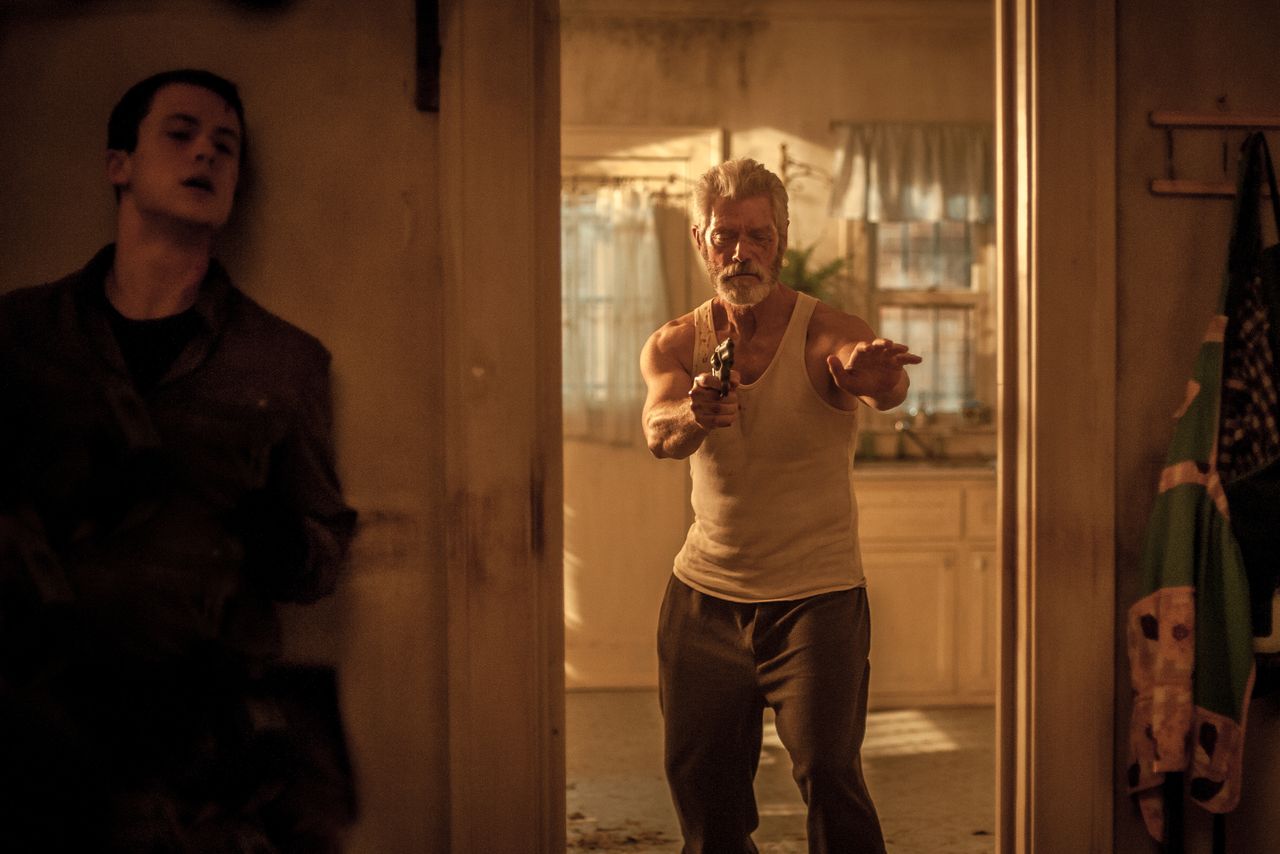 This week, the "Suicide Squad" box office stranglehold has ended. A fresh slice of horror cinema from the Rob Tapert/Sam Raimi/Fede Alvarez brain trust was this weekend's victor. Stephen Lang-heads rejoice!
Weekend: August 26h-28th, 2016
Big New Releases: "Don't Breathe," "Mechanic: Resurrection"
Big Holdovers: "War Dogs," "Kubo and the Two Strings," "Sausage Party," "Pete's Dragon," "Suicide Squad"
1. "Don't Breathe" (PG-13, 3,051 theaters) –
What Went Down: $26.4 million first weekend
The tense tale of a murderous blind man fending off home invaders dominated the competition in an otherwise lackluster weekend, as Fede Alvarez's second feature "Don't Breathe" more than doubled the fourth weekend take of "Suicide Squad," with a solid $26.4 million debut gross. The $9.9 million-budgeted flick is already well into the black after just three days (not accounting for promotional expenses, of course), and a testament to the fact that audiences are willing to shell out $9 for original content. "Don't Breathe" actually bested the opening weekend take of Alvarez's 2013 "Evil Dead" remake by a couple hundred grand, although that is subject to change when box office finals are released tomorrow afternoon. If adjusted for 2016 ticket prices, "Dead" would have had a superior weekend gross, $26.6 million.
2. "Suicide Squad" (R, 3,582 theaters) –
What Went Down: $12.2 million (-41.3%) fourth weekend
The much-maligned DCEU hit finally stabilized in its fourth session, slipping a respectable 41.3% to $12.2 million and the 2-seed this weekend. The Margot Robbie-Will Smith actioner has banked $282.9 million domestically to date, contributing to a $636 million worldwide take. Can it beat "Batman v Superman" domestically or abroad? Ono time will tell, though the smart money is on a resounding "nah." Still, a $750-800 million finish for this kind of property is nothing to sniff at.
3. "Kubo and the Two Strings" (PG, 3,279 theaters) –
What Went Down: $7.8 million (-37.8%) second weekend
Predictably, Laika's latest held up very well, easing just 37.8% after an uninspiring first weekend. After opening at #4 last weekend, "Kubo" actually moved up one slot during its second-weekend run to #3. The $60 million stop motion feature has amassed $24.9 after 10 days, and could finish with $45-55 million before all is said and done. I will say it was thoroughly hyped in Los Angeles, as the streets were plastered with "Kubo" posters. I'm not sure how far the movie's marketing reach extended in other parts of the country, outside of maybe Portland, Laika's home base. Here's hoping that its international rollout is bears more fruit.
4. "Sausage Party" (R, 3,135 theaters) –
What Went Down: $7.5 million (-51.4%) third weekend
"Sausage Party" once again saw its audience chopped in half. It pulled in $7.5 million this weekend, good for an $80 million 17-day total, making it the most successful flick written by Rogen and Goldberg since "The Green Hornet" seven years ago. Maybe the unorthodox comedy's success will encourage them to push their ribald humor into even more esoteric arenas on future projects – more animation, more orgies, whatever.
5. "Mechanic: Resurrection" (R, 2,258 theaters) –
What Went Down: $7.5 million opening weekend
I didn't even know this was coming out until I started writing your weekly box office roundup article. And I'm the target audience for this movie!! Damn it, Lionsgate. Show Statham a little marketing love some time, huh? The first Jason Statham remake of the original Charles Bronson-Michael Winner 1972 version of the "The Mechanic," opened to a $11.5 million first weekend in January of 2011 (equivalent to $12.6 million today). It finished with $29.1 million domestically ($32.1 million in 2016) and $62 million worldwide, on a $40 million budget. If you factor in marketing expenses, "Mechanic" probably just made back its cost during its theatrical run. Statham is one of those guys whose real money is made in the home video market, though, which must be the reason Lionsgate and Summit green-lit "Mechanic: Resurrection" for theatrical release this year, also to the tune of a $40 million price tag. This is actually a significantly starrier project than "Don't Breathe" (or "Kubo," for that matter) — beyond Statham, it also features Tommy Lee Jones, Jessica Alba and Michelle Yeoh, all in big roles — so its failure to even hit $10 million this weekend is pretty disappointing — especially because, as a sequel, it should experience serious drops in the weeks ahead.