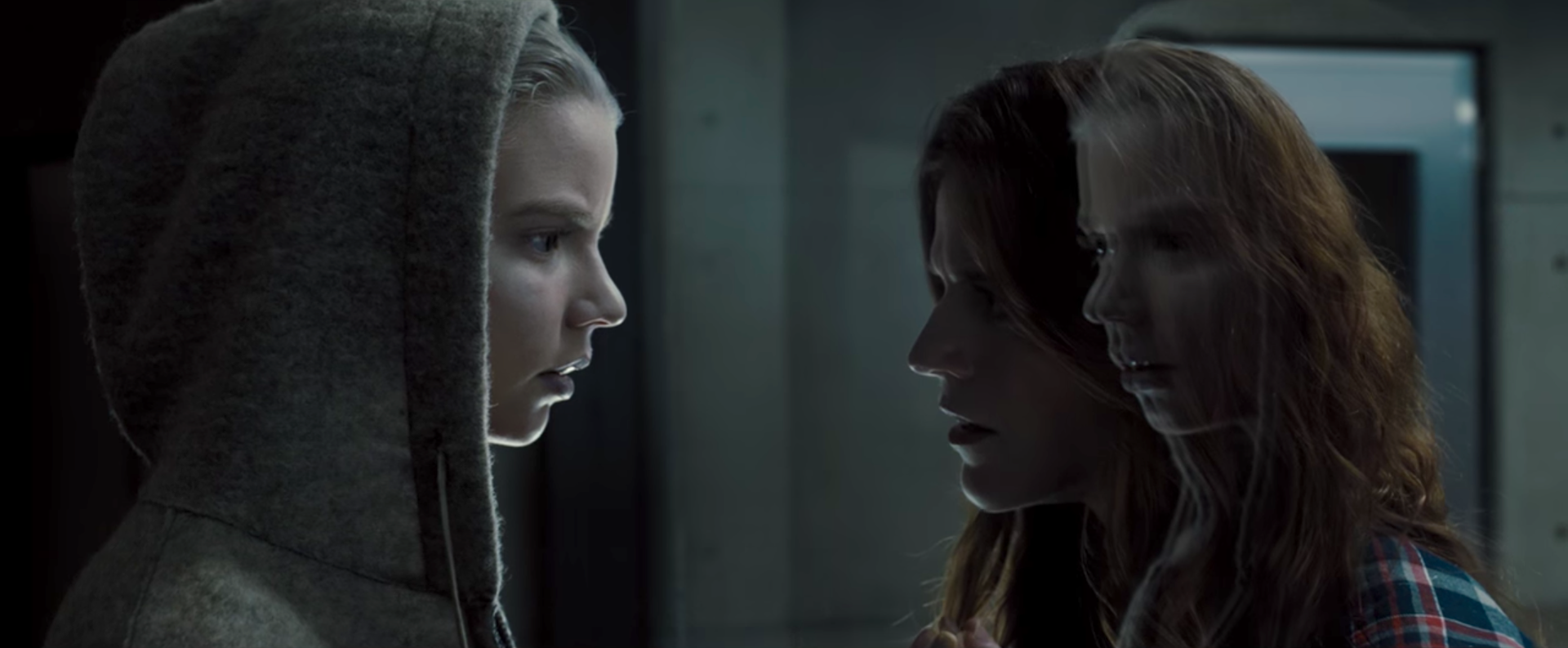 This Labor Day (the official end of Hollywood's summer, although in the real world summer ends with the fall solstice in a few weeks), some unheralded new releases try to sneak in for a piece for the holiday pot, though holdovers will generally continue to rule the roost and enjoy gentle descents. Lionsgate's critically acclaimed little Western "Hell or High Water" (which I'd definitely recommend, a solid slab of summer fun at least amidst all the sequel/prequel/reboot drudgery) expands its theater count by 43.3% to 1,303 cinemas, and will try to reach the top 5 this weekend. And it just might!
Weekend: September 2nd-4th/5th, 2016
Big New Releases: "Morgan," "The Light Between Oceans," "Kickboxer: Vengeance" (limited), "31" (limited)
Big Holdovers: "Don't Breathe," "Mechanic: Resurrection," "Sausage Party," "Suicide Squad," "Kubo and the Two Strings," "War Dogs"
1. "Don't Breathe" (PG-13, 3,051 theaters) – $13 million (-50%) second weekend three-day gross, $17 million (-35%) weekend four-day gross; $70 million final
Even though horror movies typically suffer big drops in their second weekends, regardless of whether or not they're original properties, "Don't Breathe" will be buoyed by a headline-grabbing opening weekend that surprised many — and the fact that its sophomore outing falls on Labor Day weekend, where a lot of folks get their Friday afternoons off, Sunday basically functions as another Saturday, and Monday more or less mirrors a typical Sunday theater turnout. Stephen Lang and co. should witness a 50% decline over the three-day weekend (which, crazily, is not too shabby for horror movies!), to a $13 million gross, and will enjoy a cushy 35% fall over the extended holiday session, posting a Labor Day number around $17 million, bringing its 11-day cumulative gross to around $55 million… or more than the domestic final of Alvarez's first feature, the "Evil Dead" remake. Further fuel to the fire of original concepts being just as viable, if not even more so, than revisiting a lot of IP's. I'm going to go ahead and call this weekend The Dual Of Terror, because the biggest threat to a second straight weekend on top for "Don't Breathe" comes from…
2. "Morgan" (R, 2,000 theaters) – $10.5 million opening weekend three-day gross; $13 million opening weekend four-day gross; $35 million final
Fox's cautionary sci-fi horror tale "Morgan," starring Kate Mara, has made waves by boasting the first AI-generated trailer, purported to be the scariest of the year (not that it's facing stiff competition, exactly). I will say, it's a solid preview, and that long, slow dolly in to Mara's face as the titular killer approaches her from behind glass — boasting a creepy "Rosemary's Baby"-esque theme — is pretty cool. As the success of "Don't Breathe" indicated last weekend, audiences are in the mood for some original horror content. Opening in just 2,000 theaters may limit this one's reach, but the $8 million thriller should still best its budget and pull in something in the $9-12 million range over three days, and $12-15 million over the long weekend. I'm not sure why Hollywood only extends its lower-budget ethos to horror movies and some romantic comedies — though that genre looks to be seriously on the wane, too, for some reason. This is a winning formula for Luke Scott's directorial debut (he's a big name in commercials, and the son of some guy named Ridley), assuming its marketing budget wasn't more than $20 million-ish.
3. "Suicide Squad" (R, 3,582 theaters) – $7 million (-42%) fifth weekend three-day gross; $9 million (-25%) fifth weekend four-day gross; $310 million final
After finally stabilizing last weekend to a $12.2 million gross (just a 41.3%! drop), "Squad" will continue its inevitable march to smashing the $300 million domestic barrier. It may even happen this weekend, as it should be able to ride the Labor Day weekend to another decent hold, pulling in around $7 million (a 42% fall) over three days and $9 million over four. That would lift its total to just a bit less than $300 million (about $295 million). But who knows, maybe families will be in the mood for some incoherently-plotted comic book fun this weekend?
4. "The Light Between Oceans" (PG-13, 1,500 theaters) – $7 million opening weekend three-day gross, $9 million opening weekend four-day gross, $30 million final
Disney's Alicia Vikander-Michael Fassbender romantic drama "The Light Between Us," from "Blue Valentine"/"Place Beyond The Pines" director Derek Cianfrance, opens in 1,500 theaters this weekend. Despite that being roughly half of a typical wide-release theater count, its recency plus a relative dearth of enduring recent product should collude to find "Light" a top 5 slot this weekend. The $20 million-budgeted post-World War II period piece will court the adult female demographic, who proved themselves thirsty for some summer fun when they showed up in droves for "Bad Moms." The Mila Kunis comedy, by the way, has made $96.5 million to date domestically and will cross the magical $100 million barrier by the end of the holiday session, a great result for an R-rated $20 million star-driven flick that isn't based on any pre-existing product. But back to the matter at hand. "The Light Between Us" will be banking on a big female contingent to boost it based primarily on marketing materials, because the reviews that would normally drive a specialty picture like this have not been great. It currently has a middling 60% Metacritic score and an almost identical 61% Rotten Tomatoes rating. But it's new and different, Vikander, Fassbender are rising stars and Rachel Weisz is at least a prestige name (though she doesn't exactly put asses in seats) and should threaten "Suicide Squad" for a top-3 spot with a healthy per-screen average.
5. "Sausage Party" (R, 2,766 theaters) – $5 million (-35%) fourth weekend three-day gross, $7 million fourth weekend two-day gross (-9%); $105 million final
After watching its audience collapse to $7.7 million last weekend, the ribald edibles comedy "Sausage Party" looks to follow the fourth-weekend stabilizing pattern of "Suicide Squad," and drop just by 35% or so over three days to $5 million. It'll add another $2 million to its coffers on Monday, bringing its 25-day cume to around $91-92 million. My $105 million projection for its final stateside sum might be a bit conservative, but I'm sticking with it.
Meanwhile, Lionsgate's Jeff Bridges throwback southern bank robbery actioner "Hell or High Water" expands significantly this weekend. Had buzz been better, I'd have said they crack the top 5. But it's seen steadily more mediocre averages during every successive weekend of its expansion since debuting on August 12th in just 32 theaters — it averaged $19,417 per venue for a $621,329 first weekend take in limited release. $19,417 per theater in wide release would be terrific. Let's say you hit 3K screens; that translates to a quite-solid $58.2 million gross. This movie will be lucky to make half that number during its entire run. To be fair, the $12 million-budgeted "Hell" will have no problem going into the black this weekend: its total heading into Friday will hover right around $10 million, after 21 days in limited release. After adding 440 theaters in its sophomore weekend, "Hell" saw its average slip to $5,705, which would be fine for a 2K+ weekend average, but for that theater count is a bit low. Last weekend, it added 437 theaters, for a 909-theater total. Its average slipped to $3,908. If it pulls in an average of around $3,500 this weekend over four days, that will put it in line for a $4.6 million take (en route to a finish around #7, behind at least the third weekend of "Kubo and the Two Strings," and possibly behind the third weekend of "War Dogs," too), and a $15 million-ish total. Not a great sign for its long-term legs. I hope I'm wrong, "Hell" was a good fun ride. Nothing amazing, but quite good, which automatically elevates it relative to the shit they've been generally been feeding us this year. "