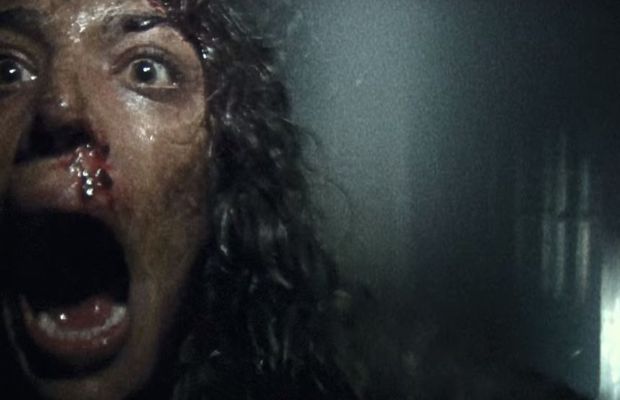 Weekend: September 16th-18th, 2016
Big New Releases:
"Blair Witch," "Bridget Jones's Baby," "Snowden," "Hillsong," "Mr. Church" (limited)
Big Holdovers:
"Sully," "The Wild Life," "When the Bough Breaks," "Suicide Squad," "Don't Breathe," "Kubo and the Two Strings"
1. "Blair Witch" (R, 3,000 theaters) – $28 million opening weekend, $65 million final
More often than not this year — relative to expectations — an unnecessary retread of a beloved property craters in its opening weekend at the box office (see: "Alice Through The Looking Glass"). But sometimes, equally inexplicably, a buzz builds around a tired retread that looks just as shitty as the failures. "The Blair Witch," the third entry in the "Blair Witch Project" series (and the first in 16 years), has somehow tapped into a well of Millennial nostalgia, and looks poised to rule the roost this weekend. It will do so at the expense of another franchise return nobody was exactly clamoring for, the first entry in the "Bridget Jones," uh, saga in 12 years. Though "Blair Witch" should perform similarly to "Through The Looking Glass" from a sheer numbers perspective, that would make the $10 million-budgeted found footage thriller a big hit. "Through The Looking Glass" carried an exorbitant $175 million price tag. "Blair Witch" is going to be profitable within two days.
There's a decent chance it could actually be an improvement over its predecessors, too, simply through the advent of competent cinematography and a cogent story (it actually just looks like an "Evil Dead" ripoff with possessed siblings chasing their compatriots in the woods, albeit devoid of any personality, humor or charm. Like the original 1999 Summer smash, this latest entry features the ol' "shaky cam" aesthetic that has been a staple of found footage movies since… oh, the first "Blair Witch Project." But unlike the first movie, which was shot by its actors using '90s standard definition home video cameras, the reboot's "found footage" look was actually filmed by professional cinematographers with high-definition cameras, who subtly enhanced the visuals beyond the raw amateur level. Anyway, a $28 million opening weekend take would occupy the high end of a horror movie's potential take ("Don't Breathe" opened to $26.4 million, and even that figure was a welcome surprise to the suits at Screen Gems). Unlike the well-regarded "Don't Breathe," though, this puppy's flirtation with the top of the charts is not built to last. Expect it to collapse in the weeks ahead, and be totally finished making its money (which won't top $65 million) before a potential re-release come Halloween.
2. "Sully" (PG-13, 3,525 theaters) – $23 million (-34%) second weekend, $140 million final
Clint Eastwood and Tom Hanks's Oscar bait, based on the real-life heroics of a commercial pilot in New York, has been playing like gangbusters throughout the week. Its numbers have been surprisingly robust for a non-summer non-sequel, and it could bring in as much as $14 million over its inaugural Monday-to-Thursday period. After a great first weekend showing for an adult drama, "Sully" could pose a legitimate threat to "Blair Witch" for the 1-slot this weekend.
I see it coming a bit short, but holding well nevertheless, making something between $22-$26 million. I'll pencil it in for the low end of that range, sliding 34% to $23 million for the weekend and roughly $72 million after 10 days. This drop should be right in line with the sophomore weekend slide experienced by Hanks's last visceral, real-life saga of a man running into trouble in transit was "Captain Phillips" three years ago. The Paul Greengrass abduction adventure, benefitting from similarly glowing critical notices, declined by just 36.2% in its second weekend.
3. "Bridget Jones's Baby" (R, 2,920 theaters) – $15 million opening weekend, $45 million final
I see this over-the-hill femme rom-com performing almost identically to this spring's equally tardy romantic comedy follow-up to "My Big Fat Greek Wedding." "My Big Fat Greek Wedding 2" (produced by Hanks and Rita Wilson, as fate would have it) opened almost exactly 14 years after its blockbusting predecessor, and opened to a just-okay $17.9 million first weekend take, and held up well, closing with $59.7 million stateside. Sure, it's not $241.4 million stateside, but considering that the sequel was at least 11 years too late, Universal had to be happy with that take. It only cost $18 million to produce, after all.
The $35 million-budgeted "Bridget Jones" won't open quite as high as "Greek" this weekend for a few reasons: 1) its R rating will limit its audience a bit ("Greek" was PG-13), 2) it is a direct follow-up to a unloved franchise entry ("Bridget Jones: The Edgs of Reason" in 2004) and 3) it faces more direct competition for the dollars of adult women, its core demographic, who always show up in droves for horror movies and will continue flocking to the latest Tom Hanks bio pic because, let's face it, he's a stud muffin. The original "Bridget Jones's Diary" made $71.5 million domestically in 2001, which would translate to $109.5 million in 2016 dollars. It made a fuck-ton of money overseas, though ($281.9 million), since it's based on a bestselling literary property. The sequel, "Bridget Jones: The Edge of Reason" brought in a massive $262.5 million worldwide — but made just $40.2 million ($56.1 million today), barely matching its reported production cost. Not sure there's as much international demand this time around.
4. "Snowden" (PG-13, 2,400 theaters) – $8 million opening weekend, $35 million final
Another true story from an Oscar-winning director, except this one's much harder to sell to Middle America than "Sully." Oliver Stone returns to narrative film this weekend with "Snowden," which was initially slated to open last Christmas. Any time a prestige picture is delayed that much, the initial audience inclination is to smell a rat. Though the well-liked Joseph Gordon-Levitt and Shailene Woodley headline, they themselves are not big draws on their own to get asses in seats.
Let's run through JGL's track record over since 2012, for movies where he served as the main star or co-lead. Under these terms, the 2012 blockbuster "Lincoln" — where Gordon-Levitt had just a handful of scenes as the spawn of Honest Abe — doesn't qualify for this conversation. All figures are domestic. This past December's "The Night Before," where he received second billing to Seth Rogen, made just $43 million stateside — granted, it only cost $25 million, but surely Sony was expecting a better return. Last September's "The Walk" tanked, bringing in $10.1 million off a $35 million budget. The comic book sequel "Frank Miller's Sin City: A Dame to Kill For" was also a mega-bomb, bringing in just $13.8 million in 2014 (it cost $65 million). "The Wind Rises," a 2014 Hayao Miyazki animated ensemble piece, made just $5.2 million, but for a tiny anime flick that's fine, it made most of its money internationally anyway (although JGL was only a voice over performer in the English-speaking countries). 2013's micro indie "Don Jon," his great directorial debut, was a modest hit, making $24.5 million off a $5 million budget. 2012's "Looper" (co-starring Bruce Willis, but Gordon-Levitt was the star) was the equivalent of a solid double in baseball, making $66.5 million off a $30 million budget; and the very good bike messenger adventure "Premium Rush," also released in the fall of 2012, sadly flopped, making just $20.8 million. Gordon-Levit's worst movie of this bunch, by far, was also his biggest: "The Dark Knight Rises," which as a Batman movie could have starred Andy Dick as Batman and Valerie Bertinelli as Robin and still made $448.1 million.
Since hitting it big seven years ago with "500 Days Of Summer" (directed by the genius behind two horrible "Spider-Man" movies), Gordon-Levitt has selected his material carefully. He's elected to either work with great material or great directors (aside from the immortal Stephen Sommers's "G.I. Joe: The Rise Of Cobra"), sometimes both at the same time! Stone is the latter, and let's hope "Snowden" also qualifies as the former. Outside of the "Divergent" series, which itself has fallen on hard times at the box office (the fourth entry in the franchise will be released on TV or via online streaming), Woodley hasn't had much chance to prove her mettle. She anchored the big young adult hit weepie "The Fault In Our Stars," basically "Love Story" for the emoji generation. That made $124.9 million stateside during the summer of 2014, and certainly proved that, with the right material, she may develop into a star. But this spring's "Divergent" entry made almost half that sum, just $66.2 million — and that movie, much like "The Hunger Games" series for J-Law, was designed to be bigger than any one talent element. So the fact that her "Fault In Our Stars" crowd turned their backs on it gives me pause. I don't know how much drawing power she's really going to have on her own. She's also taken a back seat here to Gordon-Levitt in much of the marketing materials, making it hard to gauge just how much audiences will even know she's in this movie.
Audience awareness is lower than it should be for a movie boasting this one's talent, and it's getting a somewhat muted wide release, opening in 500 fewer theaters than freakin' "Bridget Jones 3." It will open small, but in playing to a mature audience, "Snowden" may yet sprout legs. It'll be tough for the movie to recoup its $40 million price tag stateside — but hey, maybe Edward Snowden's new countrymen can turn it into a big hit in Russia!
5. "When The Bough Breaks" (R, 3,384 theaters) – $6.5 million (-55%) second weekend, $40 million final
Morris Chestnut's time in the top five is running out. Though "Don't Breathe" performed worse than Chestnut's "When The Bough Breaks" on Monday and Tuesday, it surpassed the more recent thriller yesterday. Buzz on this baby is still strong. "Bough" and "Breathe" will be neck-and-neck this weekend as they fight for the #5 spot. I'm looking for "Bough" to follow a similar trajectory to his similarly-themed "The Perfect Man" from last fall, which descended by 62% during its second weekend. That flick had further to fall, to be fair, as it opened well beyond expectations, with a robust $25.9 million. So I'm projecting a more modest 55% dip for "Bough," to around $6.5 million from Friday through Sunday, and a bit less than a $24 million 10-day total. Considering that it cost just $10 million upfront (although you'd have to assume Chestnut took a back end deal), everything from here on out is gravy. "Don't Breathe," meanwhile, should continue to hold up well this weekend, falling by just 33% to a $5.5 million fourth weekend. That would give it nearly a $76 million total, well on its way to an $85 million final.