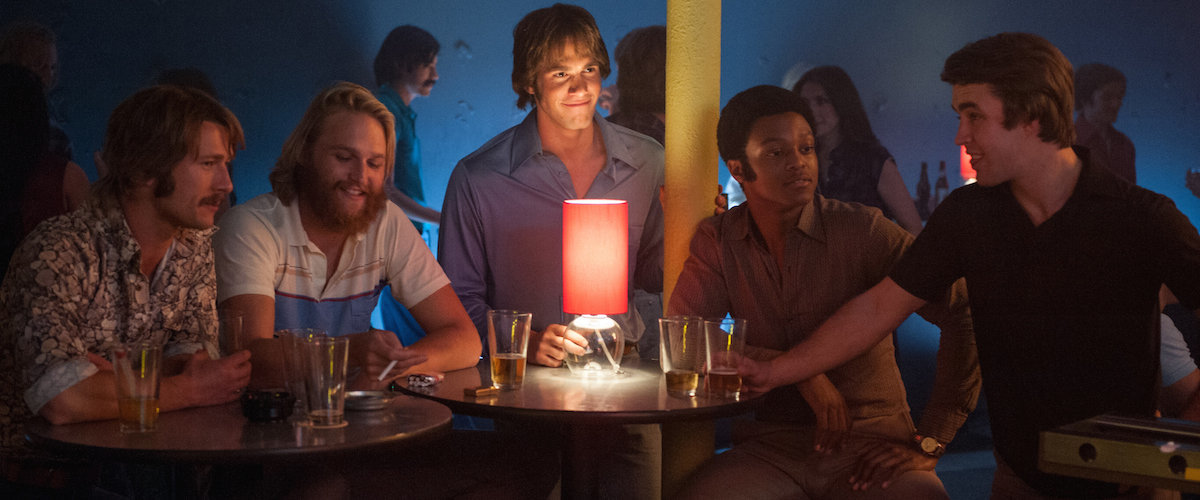 Before we get cracking with my 2016 power rankings, I have some housekeeping to do with you, dear readers.
The first item: you'll notice that my 2016 movie intake is significantly down from my 2015 intake. This is due to a number of factors, but the main one is this: I don't think I saw any fewer movies that were new to me in 2016 than I did in 2015. In fact, I may have seen a few more. But I didn't make nearly as much of a point to see movies that were released last year as I did the year before. I'd say at least a third of my theatrical movie viewing happened at Quentin Tarantino's New Beverly Cinema in West Hollywood, a wonderful little revival house where you pay $8 for a themed double-feature, and an animated short preceding the main course. Oh, I could tell tales about watching "Alligator" and "Dark Water" back-to-back, or "Bloodfist" and "Bloodfist II" with star Don "The Dragon" Wilson and his kid in attendance, or a double bill of delightfully schlocky women-in-prison fare (the great "The Naked Cage," replete with a star Q & A afterwards, and the surprisingly dull "Sex Life In A Women's Prison," which I couldn't finish), or a Jack the Ripper double feature. Between that and a steady diet of streaming and Blu-Ray rentals and purchases, I educated myself more last year on some unsung movies from decades past than usual. I think that's a trend that will continue in the years to come, and I'm not sure I'll meet the mandated Filmcore year-end rankings threshold of 35 movies viewed per calendar year when it's time to make the 2017 list. I probably will, but my priority has become older genre flicks. That's just the way the cookie has crumbled, folks.
The second item is a small caveat. There are two instances of conflict of interest here in these ratings, which I point out in the blurbs below. In last year's list, there was just one. Being as connected as I am can be a drain on objectivity sometimes!
…That was a joke. I do know some folks in the universe of moviemaking, which feels pretty good at this point in life, but I'm not that connected at all, really; just enough that I know some people on this list.
40. "Knight of Cups" (Director: Terrence Malick) — 0 stars: Last year, Chris McKee and I already dedicated far too much mental energy to this movie than it frankly deserved, catch up with our thoughts here.
39. "Midnight Special" (Director: Jeff Nichols) — * star: I was very impressed by the critical exception this nonsense enjoyed. Basically a reimagining of "Firestarter" with some "E.T." spliced in for good measure (sadly, with a 100% decrease in Drew Barrymore), "Midnight Special" employs an aggressively boring approach to storytelling. It leaves a lot of basic plot and motivational questions unanswered (what was this cult from which Michael Shannon hails? What was their function before his son became a Christ-like savior figure for them?), it devotes screen time to moments we couldn't care less about (our hero family and their friend Joel Edgerton gearing up for an intense police chase) and skips over the moments we'd actually like to see (the chase), most of its characters like to communicate through stoic stares instead of language, and the whole notion of the ending (what exactly is the kid? What are these inter-dimensinal beings he's joining? What do they do? What do they want with him? What are their feelings towards humanity? Were they, like the boy, humans once before they transcended our plane and joined the inter-dimensional city we see at movie's end?).
Michael Shannon, Kirsten Dunst, Joel Edgerton, and the actor playing Shannon and Dunst's spawn don't really say a whole lot or waiver from the stoic pseudo-emoting style. Only Adam Driver, playing a nebbishy scientist who can deduce what the family and Edgerton are up to better than his colleagues, says much. When he requests to join Michael Shannon and the kid on the final stretch of their mission (to meet the inter-dimensional beings whose MO we never learn), you'll find yourself yelling at Michael Shannon, "YES! PLEASE TAKE HIM WITH FOR THE LOVE OF ALL THAT IS HOLY. KILL JOEL EDGERTON HIS CHARACTER SERVES NO PURPOSE." Shannon will ignore you, and instead abandon Driver. My biggest question: what the fuck is a midnight special? What does that title have to do with anything that transpired in this nonsense? The answer, I suspect, is, "Not a whole fucking lot."
38. "Deepwater Horizon" (Director: Peter Berg) — * star: The first 'berg/Berg collaboration based on true events of the fall of 2016 was so bad I lost all interest in watching the second. The 'berg in question is former GAP model Mark Wahlberg, the Berg I'm talking about is director Peter ("Friday Night Lights" — the movie and the show, "Lone Survivor"), the man responsible for bringing handheld news doc-style camera work into mainstream movies. I saw this at a DGA screening with Berg in attendance, even a quality Q & A session between Berg and interviewer Nick Cassavettes couldn't rescue this movie. The camerawork was unnecessarily hectic (and, by the movie's second half, conspired with an unnecessarily "realistic" absence of light to make big storytelling moments impossible to see), the story was bogged down in blue collar vs. white collar cliches, and the performances ranged from competent to.. whatever the heck John Malkovich's attempt at a Creole accent was. The story of the BP oil spill, told from the perspective of the oil rig workers (led by Marky Mark of course), "Deepwater Horizon" has a cool, showy trailer, that you could just watch instead. You'd have a much better time. An unacceptable waste of Kurt Russell.
37. "Fantastic Beasts And Where To Find Them" (Director: David Yates) — * star: Even my little sister, who loves the clunky "Harry Potter" movies, had to concede that "Fantastic Beasts," the underwhelming HP prequel, was lackluster junk, focused entirely on the wrong story. It centers around eccentric wizard creature collector Eddie Redmayne and his stoic, generically dramatic sort-of-romantic-interest-but-in-an-asexual-way played by Katherine Waterston, a low-level witch cop, as they combat a powerful CGI wind-creature generated by a goth wizard orphan and enabled by a traitor within the Ministry of Magic. I'm sure that series creator J.K. Rowling, writing her first screenplay here, wanted to create a Voldemort-esque evil menace to emulate the narrative of her books. But she didn't need to. The story should have focused on the fantastic beasts — some of which were imaginatively depicted and pretty cute and generally showed a lot of promise — and how Redmayne, you know, found them, not this hackneyed and all-too-familiar villain plot.
36. "Batman V Superman: Dawn of Justice" (Director: HACK Snyder) — * 1/2 stars: It aged badly from when I gave it a generous **-star rating during my Filmcore podcast review for it with Armani Barron. DEMERITS.
35. "Money Monster" (Director: Jodie Foster) — ** stars: I almost forgot this movie came out last year.
34. "Suicide Squad" (Director: David Ayers) — ** stars: Its second half was such an incoherent mess that, the more that I thought about it, the more I dropped it down half a star grade in retrospect.
33. "Rogue One: A Star Wars Story" (Director: Gavin Edwards) — ** stars: COMPETENT.
32. "Arrival" (Director: Denis Villeneuve) ** stars – This Oscar nominee, a surprisingly boring movie about humanity's first contact with an alien race (who arrive in hovering pod ships), was somewhat rescued by a very clever ending, stressing this new notion of the aliens communicating via nonlinear memory plants. As has been a nagging trend in "serious" movies, all the talent here (Forrest Whitaker, Amy Adams, and the American answer to Joel Edgerton, Jeremy Renner) feels compelled to whisper as they deliver dry lines. Their characters' lack of any interesting character traits aside from "intensity" really make the proceedings a drag until that fun last reel.
31. "Deadpool" (Director: Tim Miller) — ** stars: "Deadpool" was cute upon first viewing (as discussed here, but has faded with the passage of time.
30. "It's So Easy And Other Lies" (Director: Christopher Duffy) — ** stars: After a fairly coherent first half, where Duff McKagan's chronology is appraised, things go wholly off the rails around the early 1990s — he skips the acrimony that led to the collapse of, you know, the biggest band on the planet, skips his own solo album, but dwells for a long team on his pancreatitis. He talks about forming Velvet Revolver and touring with them a bit, but not their two albums specifically or their own acrimonious split from their own lead singer Scott Weiland, or his death. This was filmed in 2013, two years before the announcement of Axl Rose's decision to make nice with McKagan and Slash in a revamped Guns 'N' Roses reunion, so of course it's hard to fault him for that (it was released theatrically in the midst of their summer tour).
We get some good stuff in the lead-up to the forming of Guns 'N' Roses (such as McKagan's first meeting with Slash, at Canter's Deli on Fairfax in West Hollywood, delicious spot), but then things fizzle a bit. I still have a lot of questions about the actual content of Guns 'N' Roses' very limited studio catalogue, which surely could've been addressed here: why the hell did they make that billion-dollar music video where Axl swims with dolphins for "Estranged" (gorgeous video though)? Why did Duff hang on so long with Guns 'N' Roses, only leaving in 1997 (he was the last non-Axl founding member to leave)? What did he and Slash think of the drastic transition between the straightforward blues-rock of "Appetite for Destruction" and the operatic Elton John/Beach Boys/elevator-jazz inflections of the "Use Your Illusion" albums (which were actually pretty fun)? Why would they ever release a covers album after what happened to Van Halen post-"Diver Down?" Didn't they know the same shit would happen to Guns 'N' Roses (it did)? How much did they have to pay Gary Oldman to dress up as Satan in their "Since I Don't Have You" music video?
Also, McKagan spends a decent amount of time addressing his return to school to explore business, even interviewing an accounting professor, but I had to go online to discover that (a) he never graduated business school and (b) that didn't stop him from founding an investment firm. How's that firm doing? What the hell is going on with that? You can't just leave me hanging, Duff!
Granted, I'm more of a Van Halen guy, but Guns 'N' Roses make for entertaining fodder themselves. I wish McKagan's filmed story covered a bit more of the band that made him famous.
29. "Silence" (Director: Martin Scorsese) — ** 1/2 stars: I always feel weird arguing with people about the validity of my argument that a boring movie is boring. "Silence" was boring. It was constructed around an incredibly simple conceit and, like many Bible anecdotes, droned on way too long to hammer home a point we understand way before the hammering is over. It would've benefitted greatly from being about an hour shorter than its 161-minute run time. Alas.
28. "10 Cloverfield Lane" (Director: Dan Trachtenberg) — ** 1/2 stars: This lively, tense sequel to 2008's found footage sci-fi horror flick "Cloverfield," takes place simultaneous to the original. Mary Elizabeth Winstead stars as a prisoner in paranoid survivalist John Goodman's bunker following the Cloverfield monster attack on New York. The movie suffers from a slapdash third act, which doesn't answer key questions (what exactly was John Goodman's MO in imprisoning Winstead and others in his bunker? How often has he done that in the past? What is the scoop with the other alien that almost abducts Winstead?).
27. "Sausage Party" (Directors: Seth Rogen and Evan Goldberg) — ** 1/2 stars: Yes, this is slotted above the Scorsese movie. Mainly for the disgusting food orgy.
26. "Moonlight" (Director: Barry Jenkins) — ** 1/2 stars: So did Adult Chiron, sexually repressed, drug-dealing workout fiend Adult Chiron, really never date anyone else in life? The fact Chiron leads such an internalized life is interesting conceptually, and it's not hard to ascribe various feelings to his stoic, artfully lit expressions. But it's also not terrifically interesting, having to guess at what he's thinking and feeling, seemingly in slow motion, through three phases of his life. I think this movie got so much Oscar and critical love because the camerawork is absolutely spectacular, and helped cover up for a threadbare and at times frustratingly dragged-out story.
25. "The Nice Guys" (Director: Shane Black) — ** 1/2 stars: The scribe of "Lethal Weapon" and scribe/director of "Kiss Kiss Bang Bang" remakes "Lethal Weapon" and "Kiss Kiss Bang Bang," this time with Ryan Gosling and Russell Crowe.
24. "The Magnificent Seven" (Director: Antoine Fuqua) — ** 1/2 stars: A totally unnecessary remake of a remake (the original 1960 "Magnificent Seven" was a remake of Kurosawa's "Seven Samurai" achieves watchability, but not much else.
23. "Eight Days A Week" (Director: Ron Howard) — *** stars: Opie's account of the Beatles' years as a touring band (spanning 1957, when the key players got together in their pre-Beatles incarnation as the Quarrymen, through their last show in Candlestick Park, plus their one-off 1969 rooftop gig) is pretty good, but lacks the depth of the great mid-90s "Beatles Anthology" miniseries.
22. "Allied" (Director: Robert Zemeckis) — *** stars: Another movie that fades a bit in the rearview, but at the time it was a fun, "Casablanca"-channeling espionage thriller, a lush period romance starring the always aesthetically-pleasing Marion Cotillard and Brad Pitt.
21. "Henry Gamble's Birthday Party" (Director: Stephen Cone) — *** stars: I have to confess that there could be a bit of bias here, for this is the great cinematographer Jason Chiu's feature film debut. His work here is terrific, he makes the camera another character in this tightly wound character drama, floating around the titular character and his family and friends as they grapple with Christianity, secularism, sexuality and suicide.
20. "Yoga Hosers" (Director: Kevin Smith) — *** stars: Smith has been pouring more energy into touring and podcasting as a movie and comic book appreciator than a filmmaker lately, but he has quietly been exploring interesting horror-comedy terrain lately, with "Yoga Hosers" following in the tradition of "Red State" and the great "Tusk." I'm not quite sure where the critical revulsion for "Tusk" and "Hosers" comes from, as both movies are fun little diversions with some nasty and innovative horror critters (this one boasts sausage Nazis and a terrifying monster suit constructed out of human flesh and operated by said bratwurst Nazis).
19. "The Bronze" (Director: Bryan Buckley) — *** stars: There may be a little bias here, because I helped promote this gymnastics comedy, about the foul-mouthed has-been Hope Anne Gregory (cowriter-star Melissa Rauch) movie a little. But damn it I also really enjoyed it!
18. "Jack of the Red Hearts" (Director: Janet Grillo) — *** stars: This effectively affecting drama about a severely autistic little girl and the troubled teen who bluffs her way into taking care of her (only to find) may make you cry. Just so you know.
17. "Green Room" (Director: Jeremy Saulnier) — *** stars: One of the late Anton Yelchin's final roles, a star turn as a punk rocker stuck at a murderous Nazi backwoods group's concert venue in an epic and brutal standoff. The violence felt a bit overwrought at times, but hey, they are Nazi's, after all. You can get away with a lot of excesses when your baddies are the manifestation of dumb evil.
16. "Hell or High Water" (Director: David Mackenzie) — *** stars: A somewhat predictable, pretty fun Southern bank robbing action movie that never totally shakes a Coen Brothers-lite vibe (right down to star Jeff Bridges' blatant Rooster Cogburn impression as a slightly kooky sheriff), "Hell or High Water" is still worth a look.
15. "Hacksaw Ridge" (Director: William Wallace) — *** stars: Mel Gibson hits you over the head with Christ comparisons for pacifist World War II hero Desmond Dawes (Andrew Garfield), an army medic who apparently saved 75 soldiers off the titular ridge. Gibson also devotes extra (some might say gratuitous) attention to some grizzly battle moment.
14. "Eat That Question" (Director: Thorsten Schultz) — *** stars: I've talked about this one in a longer review, but as a Frank Zappa aficionado I enjoyed watching what was basically a supercut of archival interview and concert footage. The interviews illuminate Zappa's wry takes on music and politics.
13. "Hidden Figures" (Director: Theodore Melfi) — *** stars: This box office sleeper shed some much-needed light on the contributions of three trailblazing African American women to the US's first space mission. A solid slab of feel-good, socially conscious entertainment.
12. "Southside With You" (Director: Richard Tanne) — *** stars: The first of two Barack Obama biopics to make an appearance on this list, "Southside With You" depicts the first date of the future President Obama (Parker Sawyers) and the future First Lady Michelle (Tika Summer) on the photogenic south side of Chicago in the summer of 1989. It was a low-key romance about two smart people having smart conversations, the type of movie I wish people made a whole lot more.
11. "The Founder" (Director: John Lee Hancock) — *** stars: This Michael Keaton Oscar bait was kind of buried at the end of the 2016 holiday season, and that's too bad. It's a nifty little slice of Americana: the story of a salesman with a vision, who exploits a revolutionary new technology (the McDonald brothers' "Speedee" fast food system) for his own personal gain. The movie doesn't totally know whether to celebrate Keaton's Ray Kroc or condemn him, but it doesn't skirt around his cruel business dealings (as he cuts out the two founding brothers from McDonald's) even while focusing on his brilliant chutzpah in expanding the brand far better than Mac or Dick McDonald (John Carroll Lynch and Nick Offerman) ever could.
10. "O.J.: Made in America" (Director: Ezra Edelman) — *** stars: The Oscar- and Emmy-winning miniseries/seven-hour and 45-minute feature film (it had a limited theatrical run before premiering on ESPN, hence its inclusion on this list) had plenty of moments of insightful reflection on race, sports and the LAPD, as it covered every aspect of homicidal football hero and commercial pitchman OJ Simpson's life in careful detail. The details bogged it down a bit in the middle, but that final 90 minutes or so is a doozy. We get a beat-by-beat breakdown of the armed robbery OJ initiated in 2007 to retrieve sports memorabilia that ultimately led to his current prison sentence.
9. "Manchester By The Sea" (Director: Kenneth Lonergan) — *** 1/2 stars: Lonergan's story of heartbroken Massachusetts residents dealing with several devastating losses handled its subject material with deft grace. The heart of the movie is the relationship between Casey Affleck and his nephew.
8. "City of Gold" (Director: Laura Gabbert) — *** 1/2 stars: This doc famed LA Times food critic Jonathan Gold doubles as a love letter to Los Angeles and all its unheralded strip mall restaurants and food trucks.
7. "Floyd Norman: An Animated Life" (Directors: Michael Fiore and Erik Sharkey) — *** 1/2 stars: A somewhat bittersweet documentary about a senior citizen Disney animator with an insatiable desire to draw and innovate.
6. "Barry" (Director: Vikram Gandhi) — *** 1/2 stars: The second Barack Obama biopic on this list covers the early years of Obama as a Columbia University transfer. Speaking in my capacity as a one-year Columbia student, I thought director Vikram Gandhi and his cinematographer Adam Newport-Berra did a great job of capturing the campus in particular and the Upper West Side in general. Star Devon Terrell does a great Obama impression, never overselling it but fully capturing the 44th President of the United States' calm and reserve. Anya Taylor-Joy, playing Charlotte, an early girlfriend, functions as a great foil for Terrell's Barry, as he continues to find himself.
5. "Fences" (Director: Denzel Washington) — *** 1/2 stars: Other reviews have highlighted just how faithful director/star Denzel has remained to August Wilson's original play here, and just how great Washington and Viola Davis are in bringing his words to poignant life.
4. "Lion" (Director: Garth Davis) — *** 1/2 stars: Despite a slow second act, this Oscar nominee will make anyone with a mom feel all warm and fuzzy inside. The true (!) story of Saroo Brierley (played as a boy by Sunny Pawar and as an adult by Dev Patel), an Indian boy who as a five year-old got lost in a train station and was adopted by a loving Australian couple, as he searches for the birth mother and family he accidentally left behind 25 years later. You might be able to feel a whole host of expected plot beats, and you might be annoyed with a hastily underdeveloped midsection covering Saroo's life as a young adult, but you're still going to like this movie more than you might expect to.
3. "13th" (Director: Ava DuVernay) — *** 1/2 stars: The "Selma" director's follow-up piece is a gorgeously photographed documentary that delves into the depressing business of U.S. prisons. It's a good history lesson for folks who know the broader strokes of the story, but not the exact systemic details that have created an ugly world of unfair racial sentencing biases and targeting. Maybe calling it a "history lesson" isn't the best way to get you to open a new tab in your browser right now and check out "13th" on Netflix, but like all the best documentaries, "13th" finds a way to engage you with dynamic cutting and a deft ability to find the story in centuries of oppressive policymaking. The newer stuff is particularly damning, and particularly important.
2. "La La Land" (Director: Damien Chazelle) — *** 1/2 stars: "La La Land" suffers a bit from the frustrating whitewashing that afflicted Chazelle's last movie, the similarly great "Whiplash." That won't necessarily detract from the viewing experience as it's happening, but it might bug you later the way it bugged me. It just feels odd that this director loves documenting jazz and the purity and appreciation of jazz music, but shies away from casting many people of color in important roles for these flicks. Kind of weird since, you know, black people were the main forces behind jazz music. John Legend, who plays Ryan Gosling's "sellout" buddy (whom Gosling eventually tours with), offers a counter argument to Gosling's self-righteous impulse to preserve classic jazz music, saying the art form deserves the chance to evolve and stay popular. Legend isn't playing a bad guy, just a corporate one. I would have preferred Legend in the Gosling part, especially since, you know, he can sing (no offense, Mr. Gosling). Chazelle's first movie, "Guy and Madeleine on a Park Bench," was another jazz-themed movie that happily cast an African American as one of the two title characters (Guy). My other big caveat against "La La Land" was that its decisive third-act moment, when Gosling and Emma Stone, our two romantic leads, decide to break up in pursuit of their respective Hollywood dreams. The "boundaries" keeping them from staying together (Stone's filming on location in Paris — Gosling, who had been touring with Legend's band, has decided to stay local and pursue his dream of opening and cultivating his own jazz club) are fairly flimsy, especially in the age of the Internet, when communication across continents is easier than ever before. That's kind of a big deal since, you know, Chazelle's big argument here seems to be that either personal romantic fulfillment or professional creative career fulfillment can be achieved, but not both. NEVER BOTH. He'd need to throw a bigger wrench into the proceedings to make a more convincing argument.
That all being said, I actually really dug "La La Land." The music will stick in your head, the romantic chemistry between Stone and Gosling (developed over the course of a few movies now, between this, "Gangster Squad" and "Crazy Stupid Love") sizzles, and vivid art direction and great camerawork (which really covers a lot of LA) and the wonderful dialogue collude towards something approaching greatness. My two big problems with "La La Land" don't stop it from being a very, very good movie, one worthy of your attention, especially if you've ever had a career goal that's felt just out of reach. Like "Whiplash," this is a movie designed for people who want to achieve professional greatness and almost wipe out in the process. Maybe Stone and Gosling don't get a Hollywood ending for their romances, but in theory I dig that storytelling notion.
1. "Everybody Wants Some!!" (Director: Richard Linklater) — **** stars: It's weird that I'm probably going to devote far fewer words to describing why I loved "Everybody Wants Some!!" than to what annoyed me about, say, the Duff McKagan documentary. But it's easier, as a critic, to pick apart a piece's failings than to verbalize why something spoke so truly to you. "Everybody Wants Some!!" very much wanted to be a "Dazed And Confused" for the male college athletics set. And, to my surprise and delight, "EWS!!" pretty much achieved that. Though it lacks Lee Daniels' gorgeous camerawork and the painstaking attention to detail that colluded to create a nostalgic window into American youth's recent past for "Dazed," "Everybody" still manages to hit similar beats, exploring the week leading up to a freshman baseball player's first week of classes at a small Texas college, where he and his teammates are the reigning kings of the school. The characters are all deeply nuanced, hyper-competitive jocks, but beneath their chest-beating bravado, Linklater unearths poignant and surprising depth. Especially good was the minor-key burgeoning relationship between Linklater stand-in Jake (Blake Shelton) and intellectual theater student Beverly (Zoey Deutch). The up-and-coming Glen Powell also shines as chameleonic team elder statesman Finnegan. But beyond these great character portraits, "Everybody Wants Some!!" is just a fun party movie. It had me laughing out loud on a very quiet airplane the first time I saw it. THAT IS HARD TO DO.