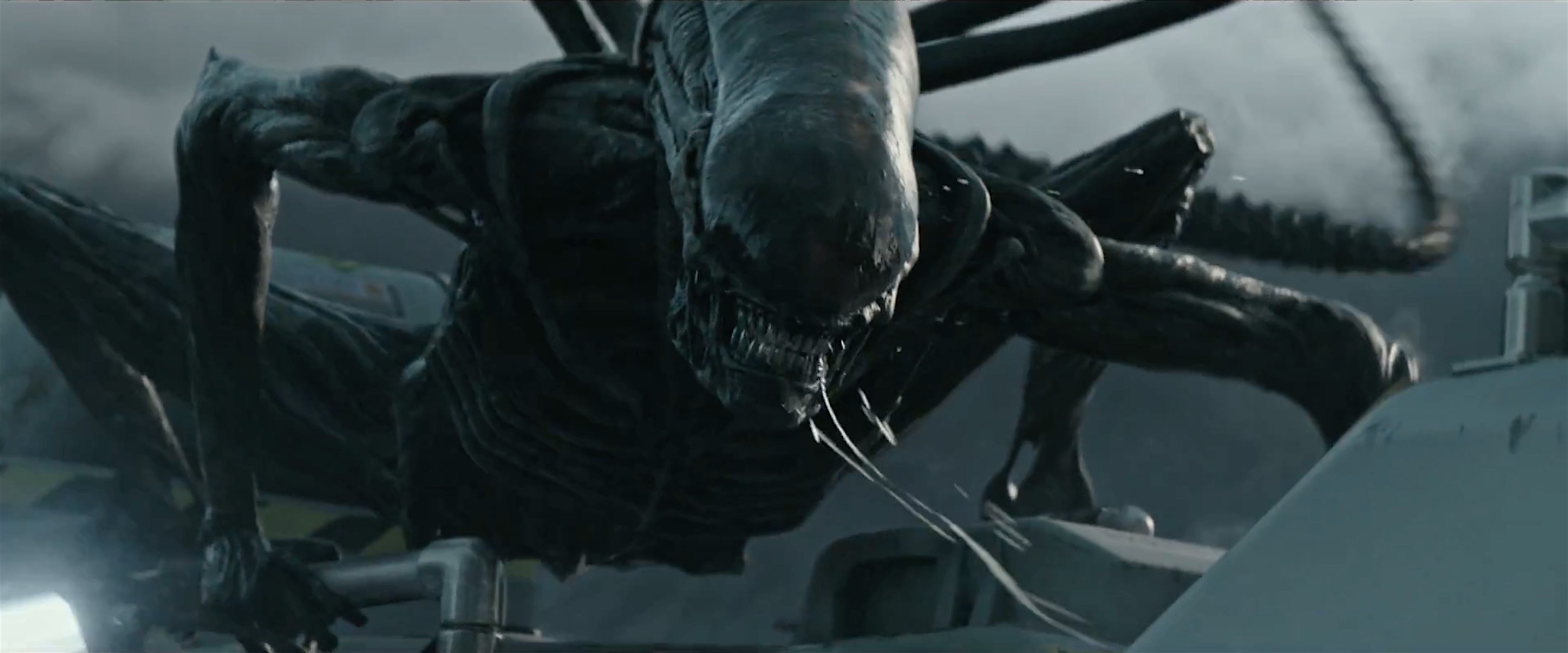 THE BOX OFFICE FUTURES RETURN, after a protracted absence. In this weekend's edition, we are confronted by two pivotal questions:
1. In this clash of two freshman franchise titans, can Batgirl's latest flick put up much of a fight against a new entry from the critically acclaimed director of "Exodus: Gods And Kings?"
2. Can Ridley Scott knock another science fiction project out of the park, following the smash success of his last flick, the (overrated) 2015 Best Picture Oscar nominee "The Martian?" Or will "Alien: Covenant," technically the eighth movie in the "Alien" franchise (sixth if you discount the two "Alien Vs Predator" spin-off movies, but why would you discount those?), falter at the gate, doomed by lingering memories of the unloved series prequel "Prometheus" in 2012? "Covenant" benefits by officially calling itself canon, and by highlighting its critters in its advertising. But will that be enough?
3. How many flicks from the Kurt Russell-Goldie Hawn household will remain in the top five (three placed there last weekend)?
The answers, in order: no, yes, and two. Now blast that "Badmotorfinger" and read on.
Weekend: May 19th-21st, 2017
Big New Releases:
"Alien: Covenant," "Diary of a Wimpy Kid: The Long Haul," "Everything, Everything"
Big Holdovers:
"Guardians of The Galaxy Vol. 2," "Snatched," "King Arthur: Legend of the Sword," "The Fate of the Furious"
1. "Alien: Covenant" (R, 3,760 theaters) – $48 million opening weekend, $130 million final
Ridley Scott turns 80 this year. Read that sentence again. Then revel in the present, as the once-great auteur's latest contributions to beloved sci-fi properties he created begin to arrive this weekend. Beyond the impending "Alien: Covenant," the third franchise installment to be directed by the famed Aussie, Scott is also producing "Blade Runner 2049" later this year ("Sicario" director Dennis Villeneuve is taking the directing reigns), the follow-up to his 1982 cult classic "Blade Runner," starring Harrison Ford in a futuristic grey t-shirt, running slowly.
Anyway, the happily grisly "Alien: Covenant" should ride relatively favorable reviews (it's rocking a 76% Certified Fresh rating on Rotten Tomatoes as of this writing) to an easy weekend victory over "Guardians of the Galaxy Vol. 2." Its long-term prospects are markedly murkier, and highly contingent on audience buzz. I see this puppy plummeting fast when "Pirates of the Caribbean: Johnny Depp Needs More Islands" debuts next weekend.
2. "Guardians of the Galaxy Vol. 2" (PG, 4,347 theaters) – $35 million third weekend (-46%), $400 million final
The first Russell-Hawn household flick to occupy a slot at this weekend's box office will be Marvel's latest generic mega-blockbuster. It should smash pass the triple-century mark stateside by Sunday, and is still in sniffing distance of clearing, yes, $400 million at the domestic box office. I'm not sure it'll be able to surpass the "Beauty and the Beast" redux as it steamrolls its way to $500 million, though, for top 2017 domestic honors to this point.
3. "Snatched" (R, 3,511 theaters) – $11 million (-44%) second weekend, $60 million final
The second and last Russell-Hawn household entry to crack the top five (a third, "The Fate of the Furious," will land in the top ten), "Snatched" should dip gently by 40-45% to a decent $11 million second weekend. That would put its sum at $36 million after ten days, will finish in the vicinity of a $60 million domestic finish. Not bad for such a modestly-budgeted ($42 million), R-rated piece of summer counter-programming, but nowhere near the $110 million heights of star Amy Schumer's previous big-screen vehicle, "Trainwreck," two summers ago.
4. "Diary of a Wimpy Kid: The Long Haul" (PG-13, 3,157 theaters) – $11 million opening weekend, $30 million final
AT LAST, we come to the second of the franchise titans I was telling you about. 40 year-old (!) Alicia Silverstone makes her long-awaited return to the big screen (well, technically, the former Batgirl has been in some features recently, but nothing to receive a considerable release since "Butter" in 2011) with the fourth (FOURTH) installment of the "Diary of a Wimpy Kid" franchise, that teflon series full of… poorly-reviewed, moderately successful movies. Her cinematic husband? "An American Werewolf In Paris" werewolf Tom Everett Scott, of course. This movie is so 1997-core. "The Long Haul" looks to incorporate the titular little guy's family into the proceedings more than prior installments, imbuing it with a family-friendly "National Lampoon's Vacation" flavor. Albeit with none of the humor or personality. Who the fuck sees these things?
5. "Everything, Everything" (PG-13, 2,801 theaters) – $7 million opening weekend, $18 million final
Another dying-young romantic teen drama, in the spirit of "The Fault In Our Stars" (and, really, "Love Story"), "Everything, Everything" will be riding a wave of lukewarm reviews and core demographic disinterest to an underwhelming $6 million opening weekend. Which is what it deserves.
Conspicuously absent from the top five is "King Arthur: Legend of the Sword," last weekend's reviled dud of a would-be franchise starter. I thought it was bad, but certainly not any worse than any of the other formless, empty-headed CGI reboot extravaganzas of the past decade or so. I'm pegging it to crumble by 60% to a $6.1 million second weekend for a $26 million 10-day total. That puts Guy Ritchie's spin on the King Arthur saga, starring Charlie Hunnam and Jude Law, en route to a paltry $35 million finish, surely a disappointing number for a movie that reportedly cost $175 million before marketing expenses. Yikes. I could've saved Warner Brothers a lot of money by just reminding them that, you know, NOBODY WANTED THIS MOVIE. They didn't want it in 2004 when Disney made it, and they want it even less now.