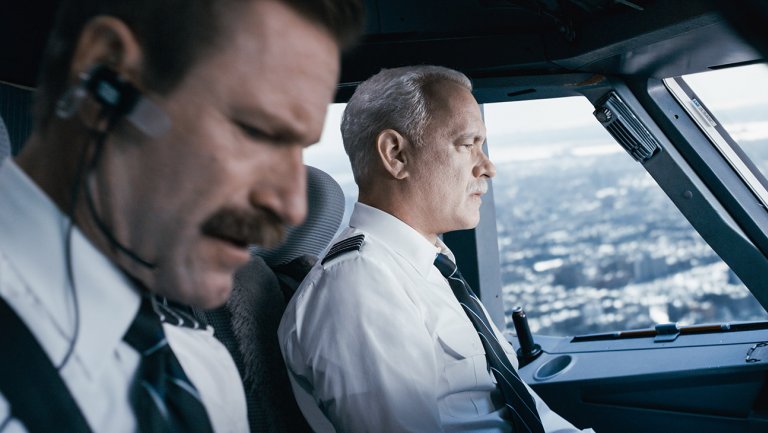 Weekend: September 9th-11th, 2016
Big New Releases: "Sully," "The Wild Life," "When the Bough Breaks," "The Disappointments Room"
Big Holdovers: "Suicide Squad," "Don't Breathe," "Kubo and the Two Strings," "Pete's Dragon"
1. "Sully" (PG-13, 3,525 theaters) –
My Prediction: #1, $35 million opening weekend, $150 million final
What Actually Went Down: #1, $35 million opening weekend
Well, I was right on the money with this one. "Sully" cruised past the competition this weekend (see what I did there?). It was star Tom Hanks's 16th #1 movie as an actor or director, and is sure to become his 19th $100 million+ grosser, in a hit-filled 33-year cinematic career. Due to the fact that Clint Eastwood has a 62-year cinematic career, exactly how many #1 hits he has to his name as an actor or director is a hard stat to gauge. Online box office week-to-week chart records are spotty before the '70s (cumulative movie totals for older pictures are easier to find, though). "Sully" was also the fifth-biggest September opening ever, by the way. In a few more weeks (I'm saying no more than four), it also will mark Clint Eastwood's sixth $100 million+ grosser as an actor or director, also unadjusted. When adjusted for inflation, however, "Sully" will actually be both Clint's and Hanks's 24th $100 million+ film as an actor or director. Well-liked by audiences (with an A CinemaScore) and critics (83% on Rotten Tomatoes) alike, and designed to target the over-30 set, "Sully" should continue to perform very well in the weeks ahead. I still think my $150 million long-term projection for the Warner Brothers hit-to-be is in play, especially if "Sully" gets re-released or expanded to accommodate awards recognition this winter.
BONUS: "Sully" is Aaron Eckhart's sixth #1 hit and will be his third unadjusted $100 million+ grosser within five weeks (fifth adjusted). It's Laura Linney's sixth #1 hit and will be just her second unadjusted $100 million+ grosser within five weeks (though it will be her sixth when adjusted for inflation). It's also her second movie with Clint Eastwood. 19 years ago, Linney played his estranged daughter (do Clint Eastwood characters have any other kind of daughter?) in "Absolute Power," the bad-ass political caper thriller penned by one of the all-time great Hollywood screenwriters, William Goldman. Now you know. Go watch "Absolute Power."
2. "When the Bough Breaks" (PG-13, 2,246 theaters) –
My Prediction: #2, $22 million opening weekend, $60 million final
What Actually Went Down: #2, $14.2 million opening weekend
I overestimated how much the fall movie market would accommodate two adult-themed dramas not based on pre-existing content last weekend. Football took a bigger chunk of the adult male audience than I had anticipated. Morris Chestnut is the real victim here. I'm sorry, Morris Chestnut. $6,323 per-theater average is solid if unspectacular. Last fall's Chestnut-starring sex thriller "The Perfect Guy" dropped in 2,221 theaters, but made out with a fantastic $11,656 average to claim its weekend's top seed. Had "Bough" been released in the same amount of theaters as "Sully" was, that'd amount to a $22.3 million opening weekend, which is exactly what I had predicted for it, albeit in just the 2,246 theaters that it was able to secure. Part of the culprit may be absolutely horrific reviews (at the time of this writing, "Bough" has a… 0% rating on Rotten Tomatoes and a mildly nicer 30% rating on Metacritic), which could doom it to fall just as hard as "Guy" during its sophomore frame (it tumbled by 62.3%). Because it cost just $10 million, it will still be profitable in theaters, but if it falters through the rest of the month, it will certainly be marked down in the Screen Gems annals as a disappointment.
3. "Don't Breathe" (R, 3,384 theaters) –
My Prediction: #4, $10 million (-37%) third weekend, $85 million final
What Actually Went Down: #3, $8.3 million (-47.9%) third weekend
The killer blind guy chiller has made $66.9 million to date, eyeballing an $80 million finish stateside. It's also brought in $20.8 million abroad, for an $87.7 million worldwide sum thus far. Director Fede Alvarez's debut, "Evil Dead" (2013), was also produced by Sam Raimi and Rob Tapert, and also distributed by Sony (but released by their TriStar wing, not Screen Gems). It made $43.3 million internationally for a $97.5 million worldwide total. If "Don't Breathe" meets or slightly surpasses that level, coupled with its domestic lapping of "Evil Dead" (which brought in just $54.2 million), it will make something in the vicinity of $120-130 million all told. Not bad for a $9.9 million cheapie.
The Fede Alvarez/Sam Raimi/Rob Tapert nightmare factory has churned out another highly profitable (it sports just a $9.9 million production budget), well-reviewed (87% on Rotten Tomatoes) horror hit for Screen Gems, and it would be no surprise to this writer if Screen Gems locks that squad into a longer-term deal for more violent fun in the years ahead.
4. "Suicide Squad" (PG-13, 3,103 theaters) –
My Prediction: #5, $7 million (-29%) sixth weekend, $320 million final
What Actually Went Down: #4, $5.7 million (-42.3%) sixth weekend
The DCEU mega-hit slid by 42.3% after its impressive hold last weekend, contributing to a domestic sum of $307.5 million. It finally crossed the $700.1 million worldwide mark this weekend, thanks in part to a solid debut showing in Japan. It has also just beaten the domestic gross of "Independence Day" from 20 years ago, making it Will Smith's biggest US hit ever. Of course, if you adjust for box office inflation, "Suicide Squad" is just the 4th-biggest domestic hit of Smith's career — after "Independence Day" (1996), "Men In Black" (1997), and "I Am Legend" (2007). Though Smith is no doubt the star of "Suicide Squad," it's somewhat unclear how much of his influence can be attributed to the success of "Suicide Squad." If a similar non-star was given Smith's role as Deadshot — say, Garret Hedlund, perhaps (or, heck, even a pseduo-star like Morris Chestnut) — would that increase or decrease the movie's stock at all? Prior to "Squad," Smith had been on a 4-year box office losing streak. He hasn't have a movie clear $61 million stateside in his last four tries (one of which, "Focus," co-starred his "Suicide Squad" #2 Margot Robbie), all wide releases — although admittedly his appearance in "Winter's Tale" was just an unmarketed cameo. "Men in Black 3," in 2012, is the only other time Smith has had a movie surpass $100 million in the US since "Hancock" in 2008.
5. "The Wild Life" (PG, 2,493 theaters) –
My Prediction: #3, $12 million opening weekend, $50 million final
What Actually Went Down: #5, $3.3 million opening weekend
Lionsgate/Summit can't be very happy about their #5 finisher, "The Wild Life." The Belgian-French animated flick (an adaptation of "Robinson Crusoe" from the perspective of the island animals, and given the "Robinson Crusoe" moniker abroad) brought in a paltry $3.3 million from 2,493 theaters — for a pathetic $1,341 per-theater average. Though "Life" will be hard-pressed to surpass even $10 million stateside, it's already pulled in $24.2 million worldwide, enough to surpass its reported $13 million budget. Isn't it kind of insane that "When The Bough Breaks" is playing in 247 fewer theaters than its fellow rookie "Wild Life," and yet made $10.9 million more and while averaging $4,982 more per-theater? That's $1.2 million!
[Correction: This article erroneously reported that "The Wild Life" was nationally distributed by Screen Gems, not Lionsgate/Summit. The article's writer was clearly not caffeinated enough at the time of yesterday's publication.]